This is an excellent time to go over a few #POSTERIZED specifics.

1. It doesn't matter if the shot doesn't count. Putting somebody on a poster is not under the NCAA governance. #POSTERIZED does not recognize blocking and charging fouls. If a dunk takes place and there are witnesses, it's officially a #POSTERIZED candidate.

2. Unfortunately, you can only qualify for #POSTERIZED "Dunk of the Year" if the dunk was made and counted towards the overall team score of a sanctioned collegiate basketball game.

These two rules are very critical in our evaluation of the latest entry.

Kentucky has freak athletes all over the court. We saw what Alex Poythress could do on Monday night, humiliating much of the Duke basketball team, despite winding up on the losing side.

On Friday, it was Archie Goodwin's turn to show us what he can do. Unfortunately, some poor Lafayette Leopard was on the receiving end.

Enjoy:



What you just saw was unquestionably the best dunk of the young season. Unfortunately, due to the refs inability to properly identify the difference between athletic physicality and uncontrolled over-aggressiveness, we must look at this particular dunk as though it were in a vacuum unto itself.

In other words, if the referee had let the kids play, we would be talking about the clubhouse leader for "Dunk of the Year".

Oh, don't get me wrong, this is still a monster poster-dunk. FatHeadz won't not print wallbangers because the ref blew the call. It's just that "technically" this dunk can't qualify as DotY.

If we need picture evidence as to the magnitude of the blown-call, here it is: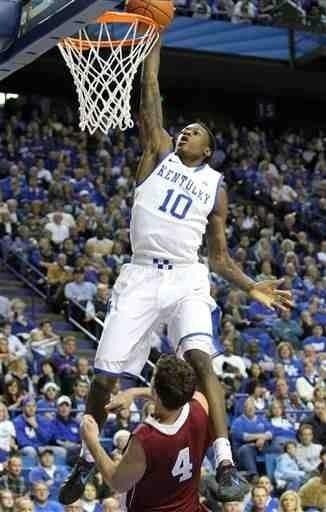 (H/T
@RICKdiculous_1
)
Though I doubt a silly charging foul during a blowout win over Lafayette can/will stop members of #BBN lauding this as Dunk of the Year, and I wouldn't blame them for trying.
But was it as good as these?

John Brown - High Point vs. Appalachian State, 11/13
Stefan Jankovic - Missouri vs. Alcorn State, 11/14
Cole Dickerson - San Francisco vs. Cal State-East Bay, 11/13
Clancy Rugg - Vermont vs. UConn, 11/13
Jamari Traylor - Kansas vs. Michigan State, 11/13
Doug Anderson - Detroit vs. St. John's, 11/13
Kris Brewer - Kent State vs. Temple, 11/13
Rakeem Christmas - Syracuse vs. San Diego State, 11/11
Deandre Daniels - UConn vs. Michigan State, 11/9
Ben McLemore - Kansas vs. Emporia State, 10/31
Keion Bell - Missouri vs. Northwest Missouri, 10/31