Game of the weekend: Sat. 2:30 pm: No. 22 Texas A&M @ No. 13 Florida

This is the one and only game this weekend between ranked teams, and there is good reason to be excited about it as it presents an interesting battle of strengths. Texas A&M really struggled offensively without Khris Middleton in the lineup. Middleton is back in the lineup now, and while he is a guy capable of scoring off the dribble, he's not a big-time slasher or creator. He thrives as a mid-range scorer and saw his production drop-off last season when Big 12 play came around.

Florida, on the other hand, is a powerhouse offensively. Thanks to their terrific three-point shooting and the emergence of Patric Young in the paint. While they have their struggles on the defensive end of the floor, the Gators are the most efficient offensive team in the country.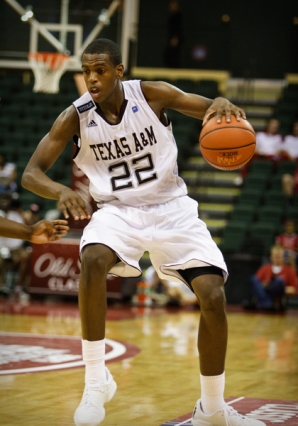 Where Texas A&M's strength lies is in their defense. More specifically, in their perimeter defense. Its not because they are a great rebounding team or force a ton of turnovers, its because they simply do not allow you to get good looks from the field, particularly from three; only Virginia Tech and Alabama State force opponents into shooting a worse percentage from beyond the arc.

So what wins out? Texas A&M's defense or Florida's shooters?


Seven more games to keep an eye on

Sat. 2:00 pm: No. 7 Baylor @ BYU: The Bears are a frustrating team to watch. And its not because they are playing poorly; its because they haven't played anyone yet. Their schedule is 341st in the country to date. Baylor has enough talent to make the Final Four this season, but we thought the same thing about this team last year. The pieces never came together. BYU may not be the same team that they were with Jimmer and Jackson Emery, but they will undoubtedly be the best team that the Bears have faced to date. Let's see how they fair.

Sat. 2:30 pm: Temple @ Texas: Before the season started, Temple was thought to be the favorite to unseat Xavier from the top of the Atlantic 10. That sentiment may still be true, but with Michael Eric sidelined, the Owls are simply not the same team. They do have a ton of talent on their perimeter, however, and the same can be said for Texas. There may not be a lot of posting up in this game, but seeing these two perimeter attacks go back and forth will be worth the price of admission.

Sat. 4:00 pm: Memphis @ No. 4 Louisville: Two old rivals take the court as the Tigers and the Cardinals meet up in Louisville. The intrigue in this game lies solely in the Tigers. This Memphis team was thought by many to be a Final Four contender heading into the season, and that sentiment hasn't exactly changed as much as it has been put on hold. For all the talent on their roster, Memphis simply has not been able to perform up to expectations. The key may lie in their effort, or lack thereof, on a nightly basis. Louisville is a stout defensive team that should give the Tigers fits, but the Cardinals have had issues scoring the ball all season long.

Sat. 4:00 pm: Arizona @ Gonzaga: Coming into the year, the sentiment was that these were the best two teams on the west coast. And while that still may end up being true once the season ends, the flaws in both of these teams have been exposed early in the season. Arizona lacks interior depth and playmaking guards that can stay on the court (ahem, Josiah Turner). Gonzaga's issues lie in the inconsistency in their talented front court -- specifically Elias Harris -- and the inability of their back court to defend playmakers.

Sat. 5:00 pm: UNLV @ No. 19 Illinois: Illinois is a bit of a question mark at this point in the season. The Illini have made it through the first month of the season with an unblemished record, but they have yet to truly prove themselves. They have some unimpressive wins over uninspiring teams. UNLV, on the other hand, seemingly proved themselves with a win over North Carolina over Thanksgiving weekend, but since then the Rebels have struggled, getting taken to double overtime by UC-Santa Barbara and losing to both Wichita State and Wisconsin in a lackluster fashion. We should learn a lot about both teams in this game.

Sat. 8:00 pm: Villanova @ St. Joe's: When we talk about heated rivalries, Villanova and St. Joe's rarely gets mentioned. But The Holy War is widely considered the most intense rivalry in the Big 5. The game has lost some of its luster over the last two years due to the struggles of St. Joe's, but with the Hawks returning to relevancy and Villanova struggling, we're looking at what should be a heckuva battle. Believe it or not, St. Joe's may actually have a better perimeter attack than the Wildcats this year.

Sat. 10:00 pm: Kansas State @ No. 21 Alabama: If you like defense and gritty, gutty basketball, this game is perfect for you. We all know about the kind of team that the Wildcats field under Frank Martin -- physical, aggressive, defensive-minded, voracious rebounders. Alabama is similar. They can lock-down defensively as well as anyone in the country, but they struggle to score the ball. Those struggles won't get any easier against Frank Martin's team.


Who's getting upset?: Fri. 10:30 pm: Weber State @ Cal

Cal may actually be the best team in the Pac-12, which isn't exactly saying much, but with Jorge Gutierrez, Allen Crabbe and Harper Kamp on the roster, the Bears have enough talent to be an NCAA Tournament team. But don't sleep on Weber State. Damian Lillard is leading the country at 26.9 ppg, capable of putting up some impressive scoring displays -- he had 41 points in a win over San Jose State and went for 36 (including 21 straight in the second half) at St. Mary's. Throw in players like Scott Bamforth, Kyle Tresnak and Kyle Bullinger, and the Wildcats have enough to knock off the Bears.


Five more teams on upset watch

Fri. 10:30 pm: UC-Santa Barbara @ Washington: Once again, Washington has been an enigma this season. They have plenty of talent on their roster -- enough that they lost by a combined eight points to both Marquette and Duke in NYC -- but they've also lost to the likes of Nevada and St. Louis this year. UCSB, on the other hand, has one of the best players in the country that you've never heard of in Orlando Johnson. With James Nunnally also on the roster, the Gauchos are one of the best mid-major teams in the country.

Sat. 12:00 pm: No. 16 Mississippi State @ Detroit: Mississippi State has a shot to be one of the better teams in the SEC this season, but Detroit actually matches up with them fairly well. Ray McCallum is a talented lead guard, and while he isn't the same player as Dee Bost, there is a reason that so many high-major programs were disappointed when he opted for the Titans. Eli Holman is a good enough big man that he should be able to hand with rnett Moultrie on the block. Throw is leading scorer Chase Simon and the location of this game -- Dickie V Court -- and the Bulldogs better show up ready to play.

Sat. 2:00 pm: Central Connecticut State @ Northwestern: Normally, it would be a concern if a team was getting just 4.6 ppg out of their fourth-leading scorer. Not with CCSU, however. The Blue Devils have three players averaging more than 19.3 ppg, which should be enough to give Northwestern issues. The Wildcats are 8-1 on the year, but that one loss was a dismantling at home at the hands of Baylor.

Sat. 4:30 pm: Ole Miss @ Southern Miss: The Rebels are an interesting team this season. They are 9-1 on the season and they've put together a couple of decent wins this season, but in their one true test they were beaten by 30 by Marquette. Southern Miss lost a lot to graduation last year, but they've bounced back nicely this season, putting together a couple of wins against decent opponents en route to a 7-2 record early in the year. More than anything, this game is a chance for us to see if either of these two teams are for real.

Sat. 5:30 pm: Indiana State @ No. 25 Vanderbilt: We all know about the issues that Vanderbilt has had early in the season. They have questionable decision-makers in their back court and they struggle to defend. The good news, however, is that Festus Ezeli is back in the lineup for the 'Dores. Ezeli will be a problem for Indiana State in the paint, but the Sycamores have more talent than you may think coming from a team that doesn't look like it will crack the top three in the MVC. At the very least, this game is worth tuning in for to see Jake Odum play.


Mid-major matchups of the weekend: Sun. 1:00 pm: Oral Roberts @ No. 9 Xavier

I know, I know. Its blasphemy saying that Xavier is a mid-major team. But I wanted to write about this game, and its the only place that fit. Oral Roberts is quality Summit League team led by a veteran front court, one good enough to give Gonzaga a fight in Spokane on Thursday night. Xavier will be heading into this game short-handed, as Tu Holloway, Mark Lyons and Dez Wells will all begin their suspensions stemming from the brawl last weekend.


Five more mid-major matchups to watch

Sat. 1:00 pm: Iona @ Vermont: Iona is one of the most entertaining teams in the country to watch, regardless of conference affiliation. With Scott Machado, Michael Glover and Momo Jones on their roster, it should be no surprise that this team has been able to pull-off a couple of impressive wins early in the season. But the Catamounts are a tough team to beat at home.

Sat. 5:00 pm: Old Dominion @ Central Florida: Old Dominion is clearly not the same team that they were last season, although that isn't exactly unexpected given the amount of talent that graduated from Blaine Taylor's roster. Central Florida, on the other hand, is fairly loaded and already has a win over UConn on their resume.

Sat. 6:30 pm: Boise State @ Denver: This will be one of the more interesting games to keep an eye on this weekend. Both Boise and Denver managed to put together some solid wins early in the season despite not having overwhelming expectations coming into the season. The Broncos match-up well with the Pioneers, who run a Princeton-style offense that loves to control the tempo.

Sat. 7:00 pm: Richmond @ Bucknell: Its never easy to replace players of the caliber of Kevin Anderson and Justin Harper, particularly if you are a program like Richmond. Coming off of a fairly solid beat down at the hands of Iona in their own building, the Spiders must head to Bucknell, the Patriot League favorite.

Sat. 8:00 pm: Oakland @ Valpo: Oakland's Reggie Hamilton is one of the single-most entertaining players in the country to watch, and this season his Grizzly team has managed to regroup despite losing Keith Benson to graduation. But Valpo looks like they will be a contender in the Horizon this season, coming into this game with a 7-3 record.


The rest of the top 25:

Sat. 6:30 pm: No. 1 Syracuse @ NC State: In their first game with the No. 1 ranking in the country, the Orange leave New York for a non-conference game for the first time three years. NC State is a bit of a sleeper in the ACC this year, but they'll need big games out of CJ Leslie, Lorenzo Brown and Scott Wood to handle the Orange.

Sat. 12:00 pm: No. 2 Ohio State @ South Carolina: Bruce Ellington is finally back in the lineup for South Carolina. But Jared Sullinger has returned for the Buckeyes as well. I think the latter will be more important.

Sat. 8:00 pm: Chattanooga @ No. 3 Kentucky: After watching Terrence Jones sulk his way through a loss at Indiana, I am certainly not the only person that has stated concerns for what kind of player he is going to end up being. Its not so much that he had an off-night shooting the ball, its that he had an off-night effort-wise. That cannot happen. Let's see how he bounces back.

Sat. 6:00 pm: Appalachian State @ No. 6 UNC: Kendall Marshall is an exquisite passer, but I think that his ability to get Harrison Barnes open looks from the perimeter has helped fuel the theory that Barnes is nothing but a streaky jump-shooter.

Sun. 3:00 pm: William & Mary @ No. 8 Missouri: When you are going up against a team that has been absolutely lethal using a four-guard lineup, its not necessarily a good thing to be a team that puts a four-guard lineup on the floor.

Sun. 1:00 pm: Holy Cross @ No. 10 UConn: I can't be the only one waiting to see if Alex Oriakhi can break out of the season-long struggles he's had.

Sat. 4:00 pm: Northern Colorado @ No. 11 Marquette: Chris Otule's knee injury looks like it will keep him out of the lineup for a while. Will that affect the Eagles?

Sat. 6:00 pm: South Carolina State @ No. 14 Pitt: It will be really interesting to see if Khem Birch is on the court -- or even on the roster -- when this game is played.

Sat. 12:00 pm: American @ No. 17 Georgetown: Its impossible to overstate how much Henry Sims has improved this season. He's been one of the best big men in the Big East and a perfect fit for John Thompson III's offense.

Sat. 12:00 pm: Alabama A&M @ No. 18 Michigan: Michigan deserves much of the credit, along with Indiana, for being the reason that everyone is talking about how good the Big Ten is this season.

Sat. 7:00 pm: Bowling Green @ No. 23 Michigan State: The Spartans have made their way back into the top 25 this season. College hoops is better when Tom Izzo's team matters.

Sat. 8:05 pm: Houston Baptist @ No. 24 Creighton: How will the Bluejays bounce back from a loss to St. Joe's?


Other notable games:

Saturday:

- 12:00 pm: Florida Atlantic @ Miami FL
- 2:00 pm: Texas A&M-CC @ West Virginia
- 2:00 pm: Radford @ Cincinnati
- 2:00 pm: Butler @ Purdue
- 2:30 pm: Fordham @ St. John's
- 3:00 pm: UC-Davis @ UCLA
- 4:00 pm: Campbell @ Virgnia Tech
- 5:30 pm: Notre Dame @ No. 20 Indiana
- 8:00 pm: Arkansas State @ Murray State
- 8:00 pm: San Diego @ Stanford
- 8:00 pm: Alabama State @ St. Louis
- 8:00 pm: Houston @ Oklahoma
- 10:30 pm: New Mexico @ Oklahoma State

Sunday:

- 12:00 pm: Mercer @ Seton Hall
- 2:30 pm: Loyola MD @ St. Bonaventure
- 3:00 pm: South Dakota State @ Washington
- 3:00 pm: Loyola Marymount @ Florida State
- 5:30 pm: Virginia @ Oregon
- 10:00 pm: Portland State @ Oregon State