There was only one basketball player that was named in Yahoo's explosive report about Nevan Shapiro and the improper benefits that he provided University of Miami athletes.

DeQuan Jones.



If you've forgotten, Shapiro alleged that a member of Jones' family had asked an assistant coach for $10,000 to ensure that the player, a top 25 recruit in the Class of 2008, would follow through on his commitment. On Thursday, Miami announced that Jones, a 6'7" senior that has never lived up to the hype he had coming out of high school, will not play this season as the university continues their joint investigation into Yahoo's allegations.

This is another blow for a Hurricane team that was expected to contend for third place in the ACC this season. Over the summer, potential all-ACC center Reggie Johnson tore his meniscus and will be out until at least December recovering from surgery. Julian Gamble, the 'Canes next best big man, tore his ACL in September and will be out for the season. With Jones now out as well, Jim Larranaga is going to have to rely even more on his starting back court of Durand Scott and Malcolm Grant.


Ian Miller to miss the semester: According to Jeff Goodman of CBS Sports, Florida State sophomore point guard Ian Miller -- who sat out both of the Seminole's exhibition games -- will sit out the first semester of this season. He'll be eligible to return to the team in December. Losing Miller is a big blow to Florida State, a team that is completely devoid of offensive creativity and explosiveness this year. Miller came into the program with the reputation of being a capable creator, but he struggled to find a rhythm playing behind Derwin Kitchen last season. It will be interesting to see if he is able to work his way back into the lineup when he returns; he's an important piece for Leonard Hamilton's team.


Reeves Nelson has a bum ankle: Something to keep an eye on out west -- Reeves Nelson injured his ankle on Tuesday, but its not a sprain. According to Ben Howland, he changed his shoes and is having an issue with a part of his foot that he feels is giving out on him. He also said the injury "could be serious", which is not a good sign for Nelson. The good news? UCLA has enough front court depth that Howland can afford to sit Nelson against Loyola Marymount in the opener.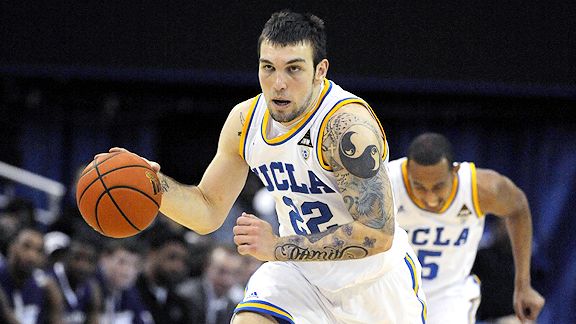 Roger Franklin cleared: North Texas already was considered one of the mid-major powers, but they just got even better. Roger Franklin, a transfer from Oklahoma State, was cleared to become immediately eligible to play for the Mean Green. He'll be teaming with Tony Mitchell, who was expected to be an impact freshman at Missouri and played on the USA's U-19 team this summer, and Justin Patton, an all-conference performer at Grambling, as UNT's impact newcomers.


Trey Burke to start: The biggest question mark for Michigan heading into this season is at the point guard spot. With Darius Morris entering the NBA Draft a year earlier than expected, the Wolverines were left with a freshman point guard and a senior off-guard to battle over the starting spot in the back court. It looks as if the freshman won out, as John Beilein announced that Trey Burke will be the starter and Stu Douglass will come off the bench. Burke played basketball with Jared Sullinger in high school.


Utah is in big, big trouble this season: The Utes lost eight players from the program after Larry Krystowiak was named the new head coach in the spring, which means that Utah will not only be heading into a new conference with a new head coach, but they'll be doing it with what nearly amounts to a new roster. Thing got worse last week. Not only did Utah lose to Adams State in an exhibition, they lost guard Chris Hines for 2-4 weeks with a rib injury and center David Foster -- a 7'3", shot-blocking machine that won the 2010 MWC defensive player of the year award -- to a foot injury that will require surgery. Its going to be a long year for the Utes.


JJ Moore suspended: Pitt's sophomore wing JJ Moore was suspended for the first game of the season against Albany. Moore participated in an unauthorized summer league (because, you know, we want to limit how much basketball a basketball player can play in the summer) which led to the suspension. It shouldn't affect his status with the team too much; Moore will still be battling Lamar Patterson for the right to replace Gilbert Brown as a Pitt's starter at the three.


Steven Pledger to miss a game: Pledger suffered the same fate as Moore, getting suspended for the first game of the season against Idaho State for playing in an unauthorized summer league. Pledger is the second-leading returning scorer for the Sooners. How did Pledger get caught? A compliance official saw a tweet from Pledger about playing in the game and self-reported the violation.


Chrishawn Hopkins is back: Hopkins has quite a bit of hype heading into the season, but he missed both of Butler's exhibitions has he battled a concussion. The good news? He's back on the court and should be ready to go in Butler's opener.


Quick hitters:

- Siena's Rakeem Brookins' will miss the season due to persistent back problems.

- Ken Holdman, a senior point guard and a defensive stopper for Oral Roberts, will miss the season after tearing his acl.