There is little question that John Jenkins is one of the best pure shooters in the country. As Luke Winn described him in a column today, "Jenkins is a gunner with a projectible NBA skill -- the ability to run off screens and drill threes with very little space between him and a defender." The standard cliche involving sharpshooters is that you are surprised when they miss, and there may not be a player in the country this season that proves that axiom more than Jenkins.

We saw Jenkins at his finest against NC State. He finished with 28 points on 10-16 shooting from the floor and 4-9 shooting from beyond the arc, including two jumpers where his toe was on the three point line. But against Oregon State, Jenkins was held in check. He had 14 points on 5-13 shooting and didn't even attempt a shot in the final 6:55 of the game.

"We don't just guard our man, we guard the other team," Oregon State head coach Craig Robinson said after the game. "We're focused on the guys that can hurt us and we try and make sure that everybody's aware of that. And we have Jared Cunningham, Ahmad Starks, Roberto Nelson and Challe Barton, who are four guards that I think I can put on anybody for some amount of time and hold them at bay."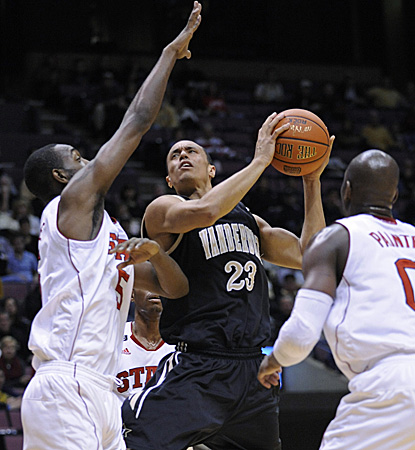 While that sounds nice to say, the simple fact is that for the 71 minutes that Jenkins was on the court at the IZOD Center, the only person that had any chance of slowing him down was Cunningham. Jenkins only scored eight points when Cunningham was on the court: he scored an uncontested layup on a leak out, he hit a three early in the second half when Cunningham lost focus and helped down on a driver and he hit a three with 6:55 left in the game when Barton was forced to switch onto Jenkins when Jenkins beat him down court. The other two threes that Jenkins hit were when Roberto Nelson was guarding him.

In other words, Cunningham didn't allow Jenkins to make one shot in a half court setting when he was guarding him man-to-man. He also collected four of his seven steals by defending Jenkins closely coming off of screens and forced another ball to be thrown away when Jenkins tried to curl tightly off of a down screen.

"He's real good using those screens," Cunningham said. "He's a great player. The team told me to focus in on him and just to stop him early and try to force other players to score."

What Cunningham did best was keep Jenkins from being able to curl off of down screens. He's a terrific athlete with excellent anticipation, meaning that he was able to not only trail Jenkins closely, but he wedged himself between Jenkins and the screener.

The Commodores love to run Jenkins off of double screens, and as you see here, Cunningham didn't give Jenkins any space around either of the screens, forcing Jenkins to catch the ball 35 feet from the basket, forcing a turnover. In the first picture, Jenkins is in the corner. In the second picture, he's running off of the second screen (click the images to enlarge):





In contrast, take a look at how much space Lorenzo Brown, a guard for NC State, gives Jenkins coming off of the double screen:





Jenkins isn't only a catch-and-shoot player. He's improved his ability not only to curl off of a screen and get to the rim, but to use his dribble to create an open look. In this clip from the NC State game, Jenkins hits the first of two back-to-back step-back jumpers:



But against Jared Cunningham, Jenkins wasn't able to use his dribble. In this clip, he ends up turning the ball over. It was the only turnover he had trying to beat Cunningham off the dribble, but it was also one of the only times he actually decided to try and beat Cunningham off the bounce:



These are just isolated examples of what happened in both games, but they are single possessions that represent precisely how each team as -- or, in the Wolfpack's case, wasn't -- able to defend Jenkins.