Over the coming weeks, we will be counting down our Top 50 teams in the country. Teams 26-50 will be posted in groups of five, while we will count backwards from No. 25 to the No. 1 team in the country. You can find a complete schedule of our 2011-2012 Season Preview coverage here. To browse through the rest of the Top 50, click here.

Last Season: 32-5, 13-3 (2nd ACC), lost to Arizona in the Sweet 16

Head Coach: Mike Krzyzewski

Key Losses: Nolan Smith, Kyle Singler, Kyrie Irving

Newcomers: Austin Rivers, Michael Gbinije, Quinn Cook, Marshall Plumlee, Alex Murphy,

Projected Lineup:

- G: Seth Curry, Jr.
- G: Austin Rivers, Fr.
- F: Alex Murphy, Fr.
- F: Ryan Kelly, Jr.
- C: Miles Plumlee, Sr.
- Bench: Marshall Plumlee, Fr.; Mason Plumlee, Jr.; Ty Thornton, So.; Quinn Cook, Fr.; Michael Gbinije, Fr.; Andre Dawkins, Jr.; Josh Hairston, So.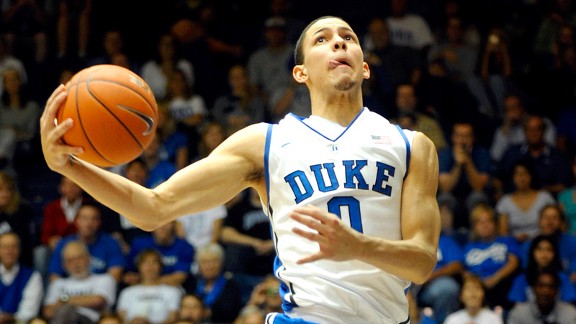 Outlook: The Blue Devils had a wild ride in 2010-2011. With essentially everyone returning from their 2010 National Title team, Duke was the consensus favorite to repeat as champs in 2011. Early in the season, that prediction appeared accurate, as Kyrie Irving was having a Player of the Year kind of season. Irving went down with a toe injury in December that eventually kept him off the court until March. In the meantime, Nolan Smith turned into a legitimate Player of the Year candidate. All of this happened while Kyle Singler continued to have his standard, ho-hum, first-team all-ACC caliber season.

But despite all that talent, the Blue Devils had a crippling flaw -- they never got the production for the interior that they needed. Combine that lack of balance with the disarray that Duke was thrown into when Irving returned from his injury, and Duke bowed out of the NCAA Tournament after their worst defensive performance of the season against Arizona.

This season, the Blue Devils are almost devoid of hype. That's what happens when you play in the same conference as the team everyone is projecting to be the best in the country (UNC this year). And while the rest of the country is talking about UNC and Kentucky, UConn and Ohio State, the Blue Devils have quietly reloaded.

It will start with the back court for Duke. Austin Rivers is going to be the guy that gets all of the attention, and that isn't necessarily wrong. A superstar freshman that will remind folks of a young Jay Williams, Rivers is the total package when it comes to being a scorer. He can shoot from anywhere on the court, he can get to the basket and finish above the rim, and he can score in the mid-range. He tends to be a bit streaky, but when he gets it going, Rivers can put on some absolutely incredible scoring displays. If there is a knock on Rivers, its that he may be too cocky. He carries himself with an arrogance that will instantly make him hated by every rival fan. Sometimes that cockiness can lead to Rivers being, for lack of a better term, a ballhog. Shot selection and limiting turnovers will be a key for him this season.

While Rivers gets all the press, Seth Curry may actually end up being the more valuable back court player. Steph's little brother will get the chance to start this season at the point, and there are some that are predicting a huge year out of the fourth-year junior. I'm not as sold as them. What we do know about Curry is that he is a lights-out shooter that is dangerous when he gets in a rhythm. We also know he is a capable creator than doesn't turn the ball over. But is he truly a point guard? Is he prepared to run a team? He may be, but we will have to wait and see.

Duke's back court will have quite a bit of depth as well. Sharp shooting Andre Dawkins will see time on the wing, as will talented freshman Michael Gbinije, a fundamentally sound, 6'7" small forward. Another talented freshman, Quinn Cook, and a gritty sophomore, Ty Thornton, will back-up Curry at the point. The x-factor of this perimeter attack may end up being Alex Murphy. Murphy was a top ten recruit in the Class of 2012, but he decided to enroll at Duke a year early. He's a versatile forward with range and surprising athleticism, a guy that Duke fans are already comparing to Kyle Singler.



The Blue Devil's front court will be much more of a question mark, however, but its not due to a lack of size or a lack of potential. Enter the Plumlees. With Marshall entering the fray this fall, there are now three Plumlees on the Duke roster, and they will play the majority of the minutes at the center position for Coach K this season. Mason is probably the best out of the group, as he led the Blue Devils in rebounding and blocks last season. He needs to become more of an offensive threat, however. Miles has been inconsistent throughout his career, but early reports have said that he's impressed as much as anyone. Marshall is probably the tallest and the most athletic of the trio, but he'll need some muscle and weight before he's really effective in the ACC.

The x-factor will be Ryan Kelly. Kelly is a stretch four, a 6'11" forward with three-point range. He has a lot of expectations coming into the season, as he has apparently bulked up during the summer. Kelly was terrific during Duke's trip through Asia and the Middle East, as being stronger has allowed him to become a more physical and aggressive presence in the paint. He'll never be Quincy Acy, but if he can provide a strong rebounding and shot-blocking presence -- he averaged 1.4 bpg last year -- it will make Duke that much tougher inside.

There is, unquestionably, loads of talent on this Duke roster. But so much of that talent will be connected with an 'if' heading into the season. 'If' Seth Curry becomes a point guard; 'if' the Plumlees can live up to their potential; 'if' Austin Rivers is as good as advertised; 'if' Ryan Kelly truly did get better. There is no question that Duke is the second best team in the ACC. They can be much more than that on a national scale if everything breaks right. One this we do know -- it will be a fun ride to follow.