Today, we are rolling out our Mid-Major Top 25, and there are a number of very teams populating this list.

And while we hope that this list will spark a discussion, it may not be the discussion we planned on. Labeling a program as a mid-major or a high-major is a bit of a hot button issue. You may get shot in you call Memphis, Gonzaga or Xavier a mid-major. But the Muskies actually spend less on basketball than TCU and Rice. Memphis and Gonzaga both find themselves behind Auburn.

So, in the end, I made the final decision. No Memphis, Xavier or Gonzaga here. Temple is out as well. The Mountain West schools and recent Mountain West defectors (ahem, BYU) don't make the cut, either. We do include every other Atlantic 10 and Conference USA team, however, as well as St. Mary's, Butler and every member of the WAC.

To browse through the rest of our Season Previews, click here.


1. Belmont Bruins: So there you are. Belmont. The best mid-major team in the country. And while I am sure that there are plenty of folks in Boston or Moraga or Omaha that will disagree, but I'm not even sure how close this is. The Bruins won 30 games last season, steamrolling through the Atlantic Sun competition -- their only loss was their "road trip" to visit heated rival Lipscomb. And of the 11 players that were in the Bruin rotation last season, nine of them return, including four starters. Their best back court player is back in junior Ian Clark, as is their dominating interior duo of Mick Hedgepeth and Scott Saunders. Belmont gets a chance early on in the season to test themselves against Duke and Memphis, and don't expect either game to be a blowout.



2. Harvard Crimson: I'm very high on Harvard this season. This is a team that finished tied with Princeton atop the Ivy League standings, coming with a Douglas Davis floater of making the NCAA Tournament. This year, they return everyone, including Ivy League Player of the Year Keith Wright and a finally healthy Kyle Casey. Throw in a talented freshmen class that features a trio of players that cracked top 100 lists, and there is a reason the Crimson cracked the BIAH Preseason Top 25.

3. St. Mary's Gaels: St. Mary's is going to be an interesting team to keep an eye on next season. They do lose Mickey McConnell, which will be a factor, but the Gaels also return everyone else, including Matthew Dellavedova, who can handle the point. With a couple of talented sophomore joining him on the perimeter in Stephen Holt and Jorden Page, size in the middle and a junkyard dog at the four in Rob Jones, a legitimate case can be made that St. Mary's is actually the best team in the West Coast Conference.

4. Creighton Bluejays: You already know that the Bluejays have an all-american on their roster in forward Doug McDermott. But he is far from alone on that roster. Antoine Young is a playmaker at the point that is one of the best on-ball defenders in the country while Gregory Echinique is a Venezuelan big man that averaged double figures in the Big East with Rutgers. Throw in role players like Gonzaga transfer Grant Gibbs, Josh Jones and Jahenns Manigat -- along with a talented recruiting class -- and the Bluejay will be ranked on and off throughout the season.

5. Nevada Wolfpack: This may actually be the first pick that is a surprise in these rankings, and not just because I actually classified Nevada as a mid-major. The Wolfpack finished last season with just 13 wins, but they got much better as the season progressed, finishing 8-8 in WAC play. They also bring back all six players that started games last season, including talented sophomore Deonte Burton and transfers Malik Story (Indiana) and Olek Czyz (Duke). There are a number of pieces on the roster, the key is whether or not those pieces actually come together.

6. Butler Bulldogs: It may take a while for Butler to prove me right on this. While Andrew Smith, Ronald Nored and Chase Stigall are returning starters, none of them are potential stars. Chrishawn Hopkins and Khyle Marshall are, but they are also sophomores. It may take a while for everything to come together, but the same thing happened last season. And when all the pieces finally did get put into place, the Bulldogs made their second straight run to the national title game. Advice: don't bet against Brad Stevens.



7. Marshall Thundering Herd: Marshall may have the best back court that you've ever actually heard of. Senior Damier Pitts is a talented point guard that can score and create. Sophomore DeAndre Kane has the potential to be a player of the year in Conference USA by the time his career is over. Throw in some size up front, talent coming off the bench and a couple of talented newcomers -- Justin Coleman was a Louisville signee and Robert Goff was supposed to go to Oklahoma when Oklahoma was good -- and this is a team that may end up surprising a lot of people.

8. Long Beach State 49ers: LBSU isn't deep. They essentially had a seven-man rotation last year, and graduated three of those players. But they do return their top four scorers, all of whom are seniors that have played together for four years. Casper Ware is one of the best point guards in the country you've never seen play and TJ Robinson is a double-double machine in the paint. Last year, they won their conference by four games. Expect something similar this year.

9. Wichita State Shockers: Wichita State is your typical Valley contender. They defend, they have an experienced roster and they are very well-coached. Coming off of an NIT title, the Shockers return a talented perimeter attack in Joe Ragland, David Kyles and Toure' Murry as well as seven-footer Garrett Stutz inside. Don't give the MVC title to Creighton just yet.

10. Drexel Dragons: Drexel is exactly what you should come to expect from a team coached by Bruiser Flint. They are physical and disciplined defensively and they absolutely dominate the glass despite being undersized -- their power forward, Samme Givens, averaged a double-double despite standing all of 6'5" If Chris Fouch can get healthy and provide a scoring punch, the Dragons are the team to beat in the CAA.

11. George Mason Patriots: George Mason is going to look different this season after losing their head coach and their two best playmaker. But Ryan Pearson is the truth at the four, and the rest of this roster has been through their fair share of battles.

12. Weber State Wildcats: Weber State was surprisingly competitive last season despite only having Damian Lillard for nine games before he broke his foot. With Lillard back and rejoining a group that returns the majority of their important pieces, expect the Wildcats to make plenty of noise this year.

13. St. Louis Billikens: The Billikens return everyone from last season and add Kwamaine Mitchell, who will likely end up being a first-team all-Atlantic 10 play, back into the mix after he sat out last season.

14. Tulsa Golden Hurricane: Losing Justin Hurtt will hurt, but both Scottie Haralson and Jordan Clarkson should be able to increase their scoring while the return of Donte Medder gives Doug Wojcik the point guard he was missing last season.

15. Oral Roberts Golden Eagles: ORU brings back essentially their entire team -- including star forward Dominique Morrison, from a team that finished second in the Summit League last season.



16. Kent State Golden Flashes: Kent State brings back six of the seven players from a team that went 12-4 in the MAC last year, headlined by potential Player of the Year Justin Greene.

17. Fairfield Stags: Ed Cooley may have left for Providence, but he turned over plenty of talent to Sydney Johnson. Derek Needham is one of the best point guards in the mid-major ranks, while BC transfer Rakim Sanders should have a big year.

18. Iona Gaels: The Gaels have one of the best 1-2-3 punches at the mid-major level with Arizona transfer Momo Jones, star forward Mike Glover and the underrated Scott Machado all returning.

19. Bucknell Bison: Bucknell was the consensus pick to win the Patriot League this season, headined by the return of reigning Patriot PoY Mike Muscala.

20. VCU Rams: VCU lost a ton of talent from last year's team, but with Brad Burgess back to lead a group of youngsters with Final Four experience, counting Shaka Smart's club out would be a silly thing to do.

21. Indiana State Sycamores: ISU loses a couple of key back court pieces, but with Dwayne Lathan healthy and sophomore Jake Odum back to run the show, Larry Bird's alma mater is back to relevancy.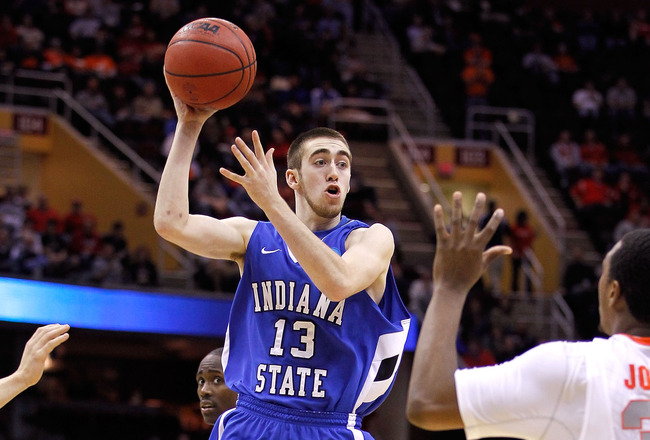 22. New Mexico State Aggies: Troy Gillenwater is gone, but Wendell McKines finally appears to be healthy after missing last season.

23. UNC-Asheville Bulldogs: The Masked Dunker is gone, but JP Primm and Matt Dickey will give the Bulldogs a very good back court.

24. Chattanooga Mocassons: The Mocs bring back their top four scorers, including Georgetown transfer Omar Wattad, and six of the nine players from last season's rotation.

25. UAB Blazers: Mike Davis will be without last year's C-USA Player of the Year Aaron Johnson, but Cameron Moore does return and he should be talented enough to keep UAB competitive in the league.

Austin Peay
Boston
Central Florida
Davidson
Florida Atlantic
LIU
Morgan State
Tennessee Tech
Utah State
Yale