One of college basketball's most well-known cliches goes like this: "The best thing about freshmen? They become sophomores."

The trend of the one-and-done era aside, that cliche generally rings true. The biggest jump that a college player makes is usually during his sophomore season. The reasons why it happens vary -- he spent the entire summer in the weight room, he finally got a feel for the system, he spent the offseason working on his weaknesses -- but the results rarely lie. In situations where playing time and a clogged depth chart come into play, you'll sometimes see that breakout postponed until a player's junior season.

What's rare, however, is to see a kid become a star after spending three seasons as a role player.


But that is precisely what has happened with Georgetown's Henry Sims this season. The 6'11" center was buried on the bench behind the likes of Greg Monroe and DaJuan Summer in his first two seasons at Georgetown. As a junior, however, Sims' numbers didn't take a jump even when his minutes did. With all due respect to Julian Vaughn, losing minutes to a journeymen collegiate center doesn't exactly skyrocket a player on NBA draft boards.
But after struggling to find any kind of consistent minutes through his first three years in DC, Sims has become arguably the best big man in the Big East as a senior. He is averaging 12.6 ppg, 5.2 rpg, 1.6 bpg and a team-high 3.9 apg. His previous career highs? 3.6 ppg and 3.2 rpg.
That's a serious jump.
So on Tuesday, I asked Sims why? What did he do over the summer that prompted this performance? What happened?
But before he could answer, Georgetown's SID Mex Carey interjected.
"Happening."
Huh?
"Its still happening."
-----------------------------------------------------------------------------------
The 'why?' is still something that Sims cannot answer.
Growing up in the hoops hotbed of Baltimore, Sims loved the game. Like any other prep school star, basketball consumed him. The daily workouts, the practices with his high school and AAU team, the competition. Throw in the fact that Sims was an athletic 6'11" center that could block shots, pass the ball and step out and knock down a jumper, and its no wonder the Mount St. Joseph star was a top 50 recruit nationally.
But something changed when he got to college. Sims became a college student, embracing everything that a University like Georgetown has to offer. He even
made a run at student body Vice President
. That's far from a bad thing considering how rare it is to find a true student-athlete at this level of basketball, but for Sims, integrating himself into the Georgetown community came at the expense of his sport.
He lost that passion for the game.
"This summer I put in a lot of hard work. I rededicated myself and fell back in love with the sport," Sims said on Tuesday. "I kind of got away from that the last few years. The reasons for that? I'm not 100% sure why. But it happened."
The summer before any college student's senior year can be a scary time. Having an unknown future once the frat parties and road trips that embody one's last year as an undergrad are over can be overwhelming, and for Sims it was no different. But where the only pressure a typical senior in college feels is waking up in time to make it to an 11:00 am class on a Friday, Sims had to carry the burden of knowing that he was what most analysts considered the weak spot for a young, rebuilding Georgetown team.
So he got to work.
"It wasn't too much the specifics," Sims said of a summer that consisted of long hours in the gym, working on his body and on his game, "its just that the workouts were intense. Every time I went into the gym, it was productive. I got better, whether it was an hour in the gym or two or three hours in the gym. Its something that I just took advantage of."
And the results simply cannot be disputed.
Sims' numbers early in the year speak for themselves, but his improvement goes well beyond simply looking at his stat line. Sims is a different presence on the block this year. He's attacking the rim when he catches the ball in the post. He's demanding the ball when he has position. More than anything, he's playing with a confidence and an aggressiveness that we have never seen out of him.
"I'm very impressed, but I always knew Henry had that in him," fellow senior Jason Clark said of the way Sims has began the year. "People always ask me what he's doing different, and I don't think he's any different. He just got his confidence up. I always knew he was a great player. He can pass well, he can score the ball. Now he just has the confidence."
Sims embraced the role that all of John Thompson III's big men have thrived in: as a distributor. The way that Georgetown's hybrid Princeton-offense is run is through the big man at the high post. The Hoyas are notorious for their ability to get wide-open layups off of half-court sets, and so much of that is the result of having a center that can recognize when a teammate is open and get the ball to him. Roy Hibbert did it. So did Greg Monroe and Jeff Green. And now its Sims' turn.
"Our offense is based off a lot of cuts and a lot of screens," Sims said. "If they're open, I gotta be able to get them the ball. I have to. That's the way we have to score. I took a little bit of ownership in that. The ball's in my hands a lot and so I got to make sure we score."
"I always thought I was a good passer, but I definitely didn't expect to be putting up assist numbers like that."
-----------------------------------------------------------------------------------
The inspiration for the rebirth of Henry Sims came from a number of different places, but, Sims said, it was one person that sparked the change.
"My mother. A lot of my mother."
And while he didn't want to get into further detail about what, exactly, mom said to him to light a fire underneath, he did open up about his desire to follow in the footsteps of his more famous former teammates currently cashing paychecks from professional teams across the globe.
"Talking to Chris [Wright], Austin [Freeman], Greg [Monroe], Jeff [Green], all them," Sims said of the guys he got advice from. "I wanted to be in similar positions that they were in. At the time, I wasn't at all able to be in that position, and its me that can possibly change that. So I'm just trying to help myself out."
Sims also sat down with Clark, the only other senior on a roster that features 10 freshmen and sophomores, and talked about what they wanted out of their final year wearing a Hoya uniform.
"The time has to be now," Clark said of what the pair discussed. "We can't wait anymore. This is our last season that we get to play here, and we want it to be a memorable one."
"Its my last year. I'm making sure I go out the way I want to go out," Sims reiterated.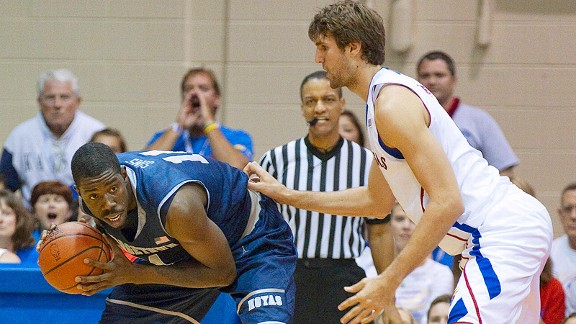 Where the maturation of Sims is most evident can't be found in the box score. Well, actually it can, but its not the crooked number that show up next to his name. Its on the defensive end of the floor, where Georgetown is as good as they've been in the four years that Sims has been a member of the team.
The Hoyas currently sit at 20th in the nation in adjusted defensive efficiency, up from 58th last season. Some of that can be credited to the big man's presence around the rim -- he averages 1.6 bpg despite playing just 23.2 mpg -- but his coach is more impressed with how Sims communicates defensively.
"He was best today — and I told him this in the locker room — at his communication on defense," JT III said after Georgetown's win over American on Saturday. "I heard Henry's voice calling screens, calling
'switch,' 'watch this.' And I think that's what he did better than anything. Better than the points. Better than the passes."
Sims agrees.
"I've definitely learned to open my mouth on the court more. I understand the importance of it more now than I did in the past. As the center and as a big man in general, you see a lot behind the play. The least I can do is talk to my guards and talk to my teammates and let them know what is going on."
Providing the focal point of an offensive attack and playing as the anchor of a top 20 defense? there isn't much more you can ask for.
-----------------------------------------------------------------------------------
After three years of watching Sims get overwhelmed by the bigger and better front court in the Big East, there are probably very few people out there that are willing to say that they aren't surprised by what Sims has been able to accomplish.
But you can count Sims in with the minority.
"Yes. Honestly. Yes," he said. "This is what I expected [when I came to Georgetown]. But things don't always go as planned. Things happen for a reason, God says things happen for a reason. I'm not too upset at all. Better late than never."
Me?
I'm with the majority.
Sims showed flashes of his ability in the past. He had 10 points and seven boards in a win over Missouri last year. He had nine rebounds and five assists against NC State. He had five boards, three blocks and two steals against Memphis. But for the most part, Sims was a spare part used to try and get Vaughn and Nate Lubick time to rest or the guy Thompson used when he starters were in foul trouble.
This season, however, there have been times were Sims was flat out dominant. Look at the 24 points he had in an overtime win against Memphis in the Maui Invitational. Or the 13 points he had in Georgetown's last-second win at Alabama. Perhaps his most impressive performance came against American, when Sims either scored or assisted on the Hoya's first 16 points after halftime as Georgetown was able to shake off a poorly played first half.
Its been a pleasure to watch for Georgetown fans.
After disappointing finishes to the last four season, the Hoyas have been the most surprising team in the Big East this season. They are 10-1 on the year -- the "1" being a four point loss to Kansas in Maui -- and have climbed into the top 20 in both polls. And while they may not be a favorite to win the league, Georgetown has put a stamp on their season: this team is not going to be a pushover come league play.
Much of the credit for the early-season success must be given to their big man.
The best big man in the Big East?
"I'll say that," Clark said.