Game of the weekend: Sat. 3:15 pm: No. 2 Ohio State @ No. 13 Kansas:

There isn't going to be a much more intriguing individual matchup this season than seeing Jared Sullinger go up against Thomas Robinson. Both are potential lottery picks, but they do it in such different ways. Sully is a space-eater and a positional expert, using his massive rear-end to carve out space and create angles to score on the block. He also has the footwork of a ballerina, which allows him to execute pretty post moves against quality competition. T-Rob, on the other hand, is a physical specimen whose ability centers on the fact that he can jumper higher and go through the players that he is guarding. He's a perfect example of what effort will get you if you have some god-given ability.

And that, more than anything, is why we should all be hoping that Jared Sullinger's back spasms have gone away by Saturday afternoon. Because seeing those two go head-to-head for 40 minutes would be a treat for all involved.

The other key matchup here is going to be Aaron Craft guarding Tyshawn Taylor. Taylor has some serious turnover issues this season (he had 11 against Duke in the Maui finals) but he has the ability to flat-out take over a game at times. He will be guarded by arguably the best on-ball defender in the country in Aaron Craft. If Craft is up to his pesky ways, than Taylor is going to have a very difficult time getting Kansas into their offensive sets.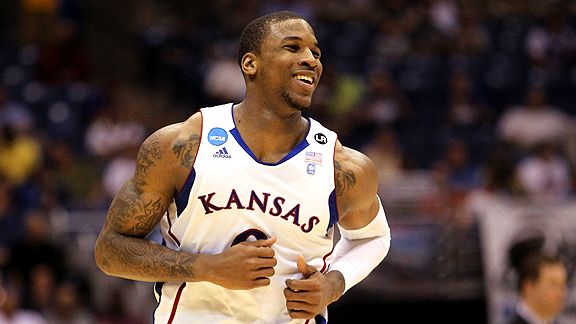 Five more games you can't miss

Sat. 12:00 pm: Washington vs. No. 5 Duke: This is such an important game for Wahsington. That cannot be emphasized enough. With three losses already on the season and without another team ranked in the top 25 on their schedule this season, the Huskies need to earn that marquee win for their tournament resume. But I'm not sure this team is going to be capable of beating Duke. They certainly have the talent on their roster to do so, but as they have done for the last couple of years, Washington seems to be a different team every time they take the floor.

Sat. 12:30 pm: Cincinnati @ No. 8 Xavier: This may be the most interesting game of the day. These two teams genuinely dislike each other, and this game always seems to devolve into the kind of physical affair that results in a fight and a couple of ejections. The question I am looking to get answered here involves Cincy. In other words, what are you doing, fellas? The Bearcats have enough talent to be a top five team in the Big East, but they have looked, well, bad early in the year Big East contenders don't lose at home to Prebysterian.

Sat. 2:00 pm: UNLV @ No. 16 Wisconsin: So is UNLV for real? We all thought so after they knocked off UNC two weeks ago. But after getting worked by Wichita State on the road, the people voting on the top 25 were no longer convinced and dropped the Rebels out of the top 25. Wisconsin is in a similar boat. Are the Badgers really a top ten caliber team and a group that can compete for the Big Ten title? UNLV matches up well and has enough quality on-ball defenders that Jordan Taylor should be in for a long day, but the Kohl Center is one of the toughest places to win a basketball game.

Sat. 5:15 pm: No. 1 Kentucky @ Indiana: Contrary to what Dan Dakich has been telling people, if Indiana wins this game it will be a massive upset. But I think what he meant is that the Hoosiers have a very real chance of winning this game. They have some size and skill in their front court and some scorers on the perimeter. I love what I've seen out of Cody Zeller early in the season, but he is going to be overwhelmed by Kentucky's size and athleticism. As concerned as I am about Jordy Hulls going up against that Wildcat pressure, I'm equally worried about whether or not the Hoosiers will be able to get stops. Kentucky has a lot of weapons and IU isn't great defensively. The great equalizer here? The road. Kentucky hasn't experienced the kind of hostile environment they will face yet.

Sat. 9:00 pm: Michigan State @ No. 22 Gonzaga: There are so many questions still to be answered about both of these teams. Michigan State has been getting better play out of their perimeter attack, but its still unclear whether Brandon Wood, Keith Appling and Travis Trice are going to be able to produce the way the Spartans need them to if they want to become a top 25 team again. MSU's strength, however, is their front court strength, a skill that matches up well with a Gonzaga team that doesn't exactly have a front line training for the pro-wrestling circuit. Robert Sacre and Elias Harris aren't exactly known for their physicality, but Draymond Green certainly is. It will also be interesting to see if Gonzaga's back court is going to be able to defend MSU.


Who's getting upset?: Sat. 4:00 pm: No. 19 Michigan @ Oakland: The Grizzlies are no joke. They can claim Tennessee as one of their victims for the second straight season and have gotten some absolutely sensational play out of the dynamic Reggie Hamilton early in the season. As any Wolverine opponent will find out, the key when playing Michigan is being able to defend the offensive sets that John Beilein runs. They are so crisp and so well-coached and have this style so thoroughly ingrained that its a feat to knock them out of a rhythm.



Five more teams on upset alert

Sat. 5:00 pm: Villanova @ Temple: Frankly, I'm not sure exactly who would be the team getting upset here, but I wanted a space to write about this matchup. Both Villanova and Temple are struggling to find a rhythm this season. The Nova, that seems to stem from issues this team has with youth and a lack of playmakers. For the Owls, however, their biggest issue is the patella injury suffered by Michael Eric that cripples their interior presence Look for Mouph Yarou to have a big game.

Sat. 7:00 pm: Long Beach State @ No. 6 North Carolina: After their win over Pitt earlier this season, the 49ers are not going to be sneaking up on anybody for the rest of the year. That shouldn't necessarily matter, however, as LBSU has the kind of talent on their roster to pull off another upset somewhere along the way. The big men of Kansas has a field day against LBSU on Wednesday. Will the 49ers be able to guard inside on Saturday evening?

Sat. 7:00 pm: Penn @ UCLA: I know, I know, this isn't technically going to be considered an upset. UCLA is way down this season as they have had to fight just to get to the point they are in right now. Penn, however, has been claiming that they are good to make some nothing through out the season. But Quakers have Anthony James, one of the biggest scorers in the county right now.

Sun. 6:00 pm: Detroit @ No. 15 Alabama: Detroit looks like they are finally hitting their stride offensively. Coming off of a nice win over St. John's at home, the Crimson Tide went ahead and lost to Dayton on the road. Detroit's sophomore Ray McCallum is probably the most talented back court player that the Crimson Tide will take on this season, but the Titans also have Eli Holman back. He has 21 points and seven boards in his first action of the season.

Sun. 6:00 pm: Murray State @ No. 20 Memphis: Its tough to trust this Memphis team this season. They make poor decisions with the ball and have, in now way, looked like a team that is going to be considered among the nation's elite. The Racers are now 9-0 on the season, but the Tigers are by far the toughest team that they will face this year.


Mid-major matchup of the weekend: Fri. 8:00 pm: Richmond @ VCU: The battle of Richmond. The game may not get this kind of national attention that other city rivals get when they play, but there is some bad blood between the two schools. VCU is finally starting to play like the team that made the run to the Final Four last season. Brad Burgess has solved his early season shooting issues while guys like Troy Daniels and Darius Theus have thrived is more significant roles this year. Richmond is in a similar boat -- they lost a lot of talent from last year's team, but their back court of Cedric Lindsay and Kendall Anthony has been impressive in the early going.

The thing that is the most interesting about this game is that neither of these teams look like they will have a chance to be in consideration for an at-large bid come March. But that shouldn't change the fact that this is a rivalry game, and it will be played that way for 40 minutes.



Six more mid-major matchups to watch

Sat. 12:00 pm: No. 17 Creighton @ St. Joseph's: The Bluejays are for real. If their come-from-behind win at San Diego State didn't confirm the hype they had coming into the season, than their win against a tough Nebraska team should have done the trick. St. Joe's is going to sneak up on a lot of people this season, however. They have a couple of studs in their back court in Langston Galloway and Carl Jones would could end up giving Creighton fits.

Sat. 2:00 pm: Akron @ Cleveland State: The win that the Zips have over Mississippi State continues to look better while Cleveland State's performance against Vanderbilt gets less impressive with each lackluster Commodore performance. But while the Vikings have continued to play well since their win over an SEC opponent, Akron has struggled. They've lost four games on the year and have yet to put together another performance quite as impressive as the game they played in Starkville.

Sat. 2:00 pm: Milwaukee @ Northern Iowa: Northern Iowa has been very impressive early on this season. Anthony James is blossoming into a star as the Panthers have rolled through their competition, including a 20 point win over Iowa their last time out. Milwaukee, however, is 8-1 on the season and just blew out DePaul at DePaul.

Sat. 8:05 pm: Utah State @ Wichita State: Utah State is battling injuries to their front line right now, and that could end up being their undoing against a Wichita State team that is playing very well right now. The Shockers have an excellent perimeter attack and enough of a presence in the paint to hang with the likes of Tulsa and UNLV. What happens when that group goes up against the Aggie's diminished front court.

Sat. 9:00 pm: Nevada @ Montana: Deonte Burton has finally started to play like we've expected him to over the past two seasons. He's scored 59 points the past two games as the Wolfpack have knocked off both Washington and Arizona State. But the Grizzlies can play. They may have four losses on the season already, but this is a team that is going to be in the mix for the Big Sky title by the end of the season.

Sun. 2:30 pm: Iona @ Marshall: Many people were expecting a big season out of the Gaels, but they have outlived most expectations. This is a team that can really get out and run the floor, and much of that is due to the terrific play they are getting out of one of the most underrated point guards in the country in Scott Machado. But Marshall has some talent in their own right. The Thundering Herd has an excellent back court in Deandre Kane and Damier Pitts and enough capable big men to give Iona fits inside.


The rest of the top 25

Friday

- 7:00 pm: Rider @ No. 12 Florida: Florida needs to learn to get the ball inside to Patric Young. Can it start this weekend?

Saturday:

- 7:00 pm: George Washington @ No. 3 Syracuse: I was expecting a lot out of George Washington this season, but they have struggled early in the season. Lasan Kromah doesn't look like the same player he was before he was injured.

- 4:00 pm: Fairleigh Dickinson @ No. 4 Louisville: As good as Louisville as been defensively this season, they've been just as bad offensively. They are going to have to find their rhythm before heading into Big East play.

- 5:00 pm: Navy @ No. 10 Missouri: Missouri has been shredding their opponents, but it all starts with a 5'8" point guard that can dominate a game without taking a shot. I doubt Navy is going to be able to slow him down.

- 9:00 pm: Green Bay @ No. 11 Marquette: Like Missouri, Marquette has been as impressive as any team in the country early in the season and is coming off of their two biggest wins back-to-back. Will they avoid a let down game?

- 2:30 pm: Oklahoma State @ No. 14 Pitt: LeBryan Nash has been inconsistent early in the season, but against Missouri State, he scored 19 points while coming off the bench. It will be interesting to see how he matches up with Pitt's bigger -- and significantly less mobile -- front line.

- 4:00 pm: Troy @ No. 18 Mississippi State: Arnett Moultrie has been playing some terrific basketball early this season. Renardo Sidney, on the other hand, is still the same Renardo Sidney, but with the way Moultrie has been playing, are folks noticing?

- 12:00 pm: Howard @ No. 21 Georgetown: Henry Sims has been playing some terrific basketball. As in, he may be the best big man in the Big East right now. Seriously.

- 4:00 pm: No. 24 Harvard @ Boston U: How will Harvard respond after losing to UConn? It will have to start with the Crimson slowing down Darryl Partin, who is averaging 23.9 ppg.

- LA-Monroe @ No. 25 Texas A&M: Khris Middleton will be back, but the Turners -- both Elston and Ray -- have been pretty good in him absence.

Sunday:

- 8:00 pm: Coppin State @ No. 22 Illinios: Illinois is coming off of an impressive win over St. Bonaventure. It wasn't impressive because they played well. Rather, it was impressive because they managed to be a pretty solid team despite playing fairly terribly. That's good sign ... if they start to play better.


Other notable games

Friday:

- 8:00 pm: Iowa @ Iowa State
- 9:00 pm: Old Dominion @ Fairfield

Saturday:

- 1:00 pm: St. Peter's @ Minnesota
- 1:00 pm: Austin Peay @ Tennessee
- 2:00 pm: BYU @ Utah
- 2:00 pm: Butler @ Ball State
- 2:00 pm: Kent State @ Western Carolina
- 2:00 pm: Arkansas @ Oklahoma
- 4:00 pm: Clemson @ Arizona
- 4:00 pm: Eastern Michigan @ Purdue
- 5:30 pm: Missouri State @ Arkansas-Little Rock
- 7:00 pm: New Mexico @ USC
- 7:00 pm: Miami FL @ West Virginia
- 7:30 pm: Dartmouth @ Notre Dame
- 8:00 pm: Bpise State @ LSU
- 8:00 pm: Wake Forest @ Seton Hall
- 10:00 pm: Ohio @ Portland

Sunday:

- 1:00 pm: UNC-Greensboro @ Florida State
- 2:00 pm: North Florida @ Kansas State
- 3:00 pm: North Carolina Central @ NC State
- 4:00 pm: Norfolk State @ Virginia Tech
- 4:00 pm: Santa Clara @ Washington State
- 5:00 pm: Jackson State @ Cal