Player of the Week: Tu Holloway, Xavier

Tu Holloway's final numbers from the week were impressive: 22.5 ppg, 4.0 apg, 4.5 rpg, 2.0 spg, six threes and 17-19 from the line. The wins that Xavier notched were equally good, as the Musketeers went into Nashville to knock off Vanderbilt in overtime on Monday and followed that up with a three-point win against Purdue on Saturday. What's more is that Xavier came from behind in both games, trailing Vanderbilt by 10 midway through the second half and finding themselves down 19 to Purdue with less than 10 minutes left.

Those numbers are more interesting, however, when you break up the game. For example, with 3:30 left in overtime against Vanderbilt, Holloway had just 14 points on 4-17 shooting. That stat line looks much more impressive after he hit back-to-back threes on the next two possessions and four straight free throws down the stretch to seal the win. Likewise, against Purdue, Holloway had just 10 points and six turnovers in the first 38 minutes of the game, but in the final two minutes he hit a three on three consecutive possessions and followed that up with two free throws, completing the most impressive comeback of the young season.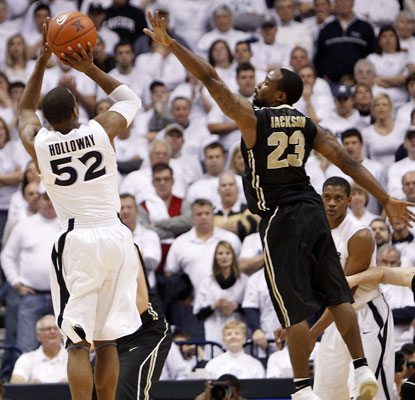 All told, Holloway had just 24 points on 6-23 shooting with seven turnovers in the two games prior to crunch time. But in the final three minutes against Vanderbilt and the last two minutes against Purdue, Holloway had 21 points, went 5-6 from beyond the arc and knocked down all six of his free throws attempts. And it was those 21 points that have kept Xavier among the ranks of the undefeated.

The All-They-Were-Good-Too Team

- G: Joe Ragland, Wichita State: Ragland had 15 points and three assists in a win over Cal St. Fullerton, but the reason he made this list is the 31 points -- on 8-9 shooting from three -- he had in an 89-70 win over UNLV. For the week, averaged 23.0 ppg, shooting 77.8% (14-18) from the floor and 84.6% (11-13) from three. He also added six assists and seven boards in the two games.

- G: Damian Lillard, Weber State: The Wildcats were just 1-1 on the week, losing to St. Mary's on the road, but that wasn't the result of anything that Lillard did. The dynamic scoring guard had 36 points in the loss to the Gaels and followed that up with 41 points in a double overtime win over San Jose State. Lillard hit a three to force the first overtime and won the game with an and-one in the second overtime.

- F: Hollis Thompson, Georgetown: Thompson led the Hoyas to a 3-0 week by averaging 17.7 ppg and 6.3 rpg. But it was the one game of the week where Thompson didn't score 20 points that he had the biggest impact. The junior forward buried a three from the wing with 1.8 seconds left to give Georgetown a two point win over Alabama in Tuscaloosa.

- F: Doug McDermott, Creighton: Doug McDermott had 25 points and 12 boards as the Bluejays knocked off Nebraska. That performance came just four days after McDermott went for 24 points and 12 boards as Creighton notched a win to put themselves on the map by coming from 17 down in the first half to beat San Diego State on the road.

- C: Mike Scott, Virginia: Scott averaged 19.0 ppg, 10.0 rpg and 3.5 apg as Virginia moved to 2-0 on the season with wins over Longwood and Michigan. In the win over Michigan, Scott had 18 points and 11 boards on 6-11 shooting, taking over for a four minute stretch in the second half that sparked the Cav's game-changing run.

- Bench: Ryan Boatright, UConn (23 pts, 6 asts, 5 rbs vs. Arkansas); Zach Filzen, Buffalo (25.0 ppg, 12-19 3's); Reggie Hamilton, Oakland (35 pts vs. Tennessee; 23.0 ppg, 6.0 apg in 3-0 week); Ken Horton, CCSU (31.0 ppg, 9.5 rpg); Anthony James, Northern Iowa (22.5 ppg, 6.5 rpg); Rob Jones, St. Mary's (21.0 ppg, 12.0 rpg, 3.0 apg, 2.5 bpg); James Kinney, SJSU (27.3 ppg, 18-31 3's); Arnett Moultrie, Mississippi State (21 pts, 13 rbs vs. West Virginia); Darryl Partin, Boston U (27.0 ppg, 5.5 rpg); Terrell Stoglin, Maryland (28.0 ppg)


Team of the Week: Baylor Bears

Let's start with the return of Perry Jones III. In his first game back from a five-game suspension stemming from illegal benefits that he received while in high school, Jones exploded for 27 points on 10-14 shooting, showcasing the kind of athleticism and versatility that makes NBA GM's salivate. Jones is a perfect fit for what Baylor wants to do on both ends of the floor, and while he had just 12 points and six boards in Baylor's win over Northwestern on Sunday, its obvious that his return has a chance to make Baylor a Final Four contender.



Speaking of that Northwestern game, Baylor recorded one of the most impressive defensive performances of the young season. Northwestern came in with one of the most high-powered offenses in the country, but after 40 minutes of dealing with the Bear's length and athleticism, the Wildcats managed just 41 points, shooting 24.1% from the floor and 4-26 from three. According to statsheet, the Wildcat's average offensive efficiency coming in was 110.5, but against Baylor, they posted an offensive efficiency of 66.2.

But as always, the issue with Baylor is at the point. Can AJ Walton and Pierre Jackson really be the kind of playmakers that Scott Drew's team needs? The 18 points, 8-10 shooting and eight assists the two combined for say yes. The seven turnovers they had say no.

Teams deserving a shout out

American: After knocking off St. Joe's at home on Sunday evening, the Eagles improved to 7-2 on the season and pushed their winning streak to seven games. With senior guard Charles Hinkle continuing his terrific play -- he had 32 points against St. Joe's after coming in averaging 22.3 ppg -- can the Eagles challenge Bucknell and Lehigh at the top of the Patriot League?

Boise State: The Broncos improved to 7-1 on the year with a sweep of MVC opponents this week, beating Drake by 44 points and following that up with a 74-65 win over Valley sleeper Indiana State. Could Boise State actually finish in the top half of the MWC?

Indiana: The Hoosiers knocked off Stetson by 34 on Saturday, but the win that everyone is going to take notice of was when they went into Raleigh and knocked off NC State in the ACC/Big Ten Challenge. With players like Jordy Hulls, Cody Zeller and Christian Watford, there's no question that Tom Crean's club can score. The question is whether they are going to be able to defend.

Kansas State: The Wildcats put together a couple of nice wins this week. They used a second half run to put away both George Washington and Virginia Tech to remain undefeated. Most impressive, however, was Frank Martin taking his team across the country to play a fellow potential bubble dweller and winning.

Louisville: The Cardinals put together a couple of nice wins this week, knocking off Long Beach State on Monday before making a comeback in the second half to beat Vanderbilt. The Cards did it short-handed with what feels like half their roster continues to recover from injuries. Peyton Siva slowly-but-surely seems to be taking over the roll of the star for Louisville.

Marquette: The Golden Eagles continue to string together impressive wins. On Saturday, they went into the Kohl Center and knocked off Wisconsin while Jae Crowder managed just two points on four shots.

Minnesota: Did we count Minnesota out too early? The Gophers won two games this week after Trevor Mbakwe injured his knee, beating both Virginia Tech and USC to improve to 8-1 on the season. More impressive, still, is that Minnesota was also missing Ralph Sampson.

Northern Iowa: The Panthers continue to impress, winning games against both Colorado State and Iowa State this past week. The star of the week was Anthony James, who averaged 22.5 ppg and 6.5 rpg in the two wins.

Oakland: The highlight of a 3-0 week for the Grizzles was that, for the second straight season, Oakland knocked off Tennessee. And, also for the second straight season, the Grizzlies did it on national television. With Reggie Hamilton playing like an all-american, this is a team you don't want to face in March.

Ohio: The Bobcats are now 5-1 on the season after another 2-0 week. After proving themselves feisty by hanging with Louisville at the Yum! Center, Ohio went into Huntington, WV, and knocked off Marshall on Wednesday.

Ohio State: Ohio State smacked Duke. But Jared Sullinger has back spasms. Anything else?

Syracuse: A 2-0 week with a win over Florida despite all the negative attention the program has received surrounding Bernie Fine is promising.

Tulane: For the first time in more than two decades, the Green Wave are now 9-0. And for the first time since 2003, Tulane knocked off a team from the ACC when they beat Georgia Tech on Saturday afternoon. Its tough to really get a feel for how good this team is -- Georgia Tech isn't exactly going to be a Final Four team this season, and that's Tulane's best win -- but 9-0 is 9-0. Can Tulane make it into the top half of C-USA?

Wichita State: You want to talk about an impressive win? The Shockers absolutely beat down a UNLV team that handed then-No. 1 UNC their first loss of the season. The final was 89-70, but the Runnin' Rebels were never really in this game after the first few minutes. With the way that the Valley has started off this season, I think multiple NCAA Tournament bids -- maybe as many as three -- are likely.


Five thoughts:

- Missouri Valley: Last week, I said that the WCC was the best mid-major conference in the country. I'm not yet ready to back track on that statement, but the Missouri Valley is making a push to be involved in the conversation. We all know about the success that Creighton has had early in the season, firmly entrenching themselves in the top 25 with a come-from-behind road win over San Diego State. After beating UNLV, Wichita State moved to 6-2 on the season with their only losses coming to Alabama and a Temple team that still had Michael Eric, both in Puerto Rico. Northern Iowa is 7-1 on the season, with their lone loss coming at St. Mary's. The Panthers have six won six in a row, including games against Providence, Iowa State and Colorado State. Indiana State has lost two of their last three, but they get a shot on Dec. 17th to prove themselves at Vanderbilt.

The Valley doesn't quite have the same depth as the WCC does at this point, but those four teams I just listed all have a real shot at bringing home a league title. As always, the Valley race should be fun, and as long as the top teams take care of the teams at the bottom of the league, we should be getting more than one Valley member dancing.

- There are three "What in the hell is going on with them" teams in the country right now: Dayton, Loyola Marymount and Tulsa. The Flyers earned themselves some attention by winning the Old Spice Classic in Orlando, beating the likes of Minnesota and Fairfield. But apparently Dayton never left Florida, at least mentally, as they've lost their last two games by a combined 46 points to Buffalo and Murray State.

LMU looked like they had finally decided to play up to their potential this year when they knocked off UCLA early in the season. The Lions followed that up, however, with Middle Tennessee State and Harvard. Then, after beating another ranked opponent in St. Louis, LMU followed that up with home losses to Columbia and North Texas. And, lastly, Tulsa has as much talent on their roster as anyone in Conference USA. But their chances of winning the league look slim as the Golden Hurricane have lost five of their last six games, including Sunday's home loss to Arizona State, quite possibly the worst high-major team in the country.

- Middle Tennessee State: This team just keeps posting win after win after win. Nothing is overwhelmingly impressive -- at LMU, at UCLA by 20, at home vs. Akron by 24, only loss at Belmont in double-overtime -- but when they are all put together, that's a pretty intriguing resume. The problem is that it will be another week before we really get a gauge on whether we need to watch the game: that's when MTSU hosts Belmont and travels to Ole Miss.

- Atlantic 10: Sunday was a bad day for the A-10, as four teams expected to finish in the top half of the league -- Dayton, George Washington, Rhode Island and St. Joe's -- lost to Murray State, VCU, Maine and American, respectively. This came in the same week that St. Bonaventure lost to Arkansas State, St. Louis was upset by LMU and Temple got beaten by Bowling Green as Michael Eric was injured for six week. Xavier is terrific, but its looking more and more like the exciting race in the Atlantic 10 is going to be for second-place.

- Big 12: The Big 12 may not have an Elite 8 team in their midst, but that doesn't mean that this league won't be fun. Baylor and Missouri are playing as well as they are going to all season long. Kansas has enough talent to compete even in a down year. Texas A&M is finally getting healthy. Throw in Kansas State -- who just won at Virginia Tech to improve to 5-0 -- and Texas -- who came from 13 down to beat UCLA by double figures in Westwood.


Games of the Week:

Kentucky 73, UNC 72: We all remember what happened here. The two most talented teams in the country traded haymakers for 40 minutes before UNC inexplicably forgot to foul when they were down one with six seconds left:



While the ending was a bit anti-climactic, that shouldn't take away from how good this game was on the whole. You ready for that rematch in New Orleans?

Nevada 76, Washington 73 OT: Deonte Burton finally looked like the Deonte Burton that we all expected to see from the start of the season. The dynamic point guard had 31 points, including a three that forced overtime and eight of the Wolfpack's 10 points in the extra frame.

UNLV 94, UCSB 88 2OT: The ending to this game was out of this world. At the end of regulation, UNLV opted to foul UCSB when the Rebels were up three with just a couple of seconds left. UCSB hit the first and missed the second, but 7'3" Greg Somogyi got the loose ball and scored on the putback as the buzzer sounded. Then at the end of the first overtime, UCSB opted not to foul when they were up three, and Chace Stanback he a tough, falling down three to force five more minutes where UNLV would prevail.


Matchups of the Week:

- Tue. 12/6, 7 p.m. No. 13 Missouri vs. Villanova
- Tue. 12/6, 9 p.m. No. 16 Marquette vs. Washington
- Tue. 12/6, 9 p.m. Long Beach State @ No. 14 Kansas
- Wed. 12/7, 7 p.m. Arizona @ No. 9 Florida
- Wed. 12/7, 9 p.m. No. 11 Xavier @ Butler
- Thu. 12/8, 9 p.m. Harvard @ No. 10 UConn
- Sat. 12/10, 12 p.m. Washington vs. No. 4 Duke
- Sat. 12/10, 12:30 p.m. Cincinnati @ No. 11 Xavier
- Sat. 12/10, 2 p.m. No. 20 UNLV @ No. 7 Wisconsin
- Sat. 12/10, 3:15 p.m. No. 2 Ohio State @ No. 14 Kansas
- Sat. 12/10, 5:15 p.m. No. 1 Kentucky @ Indiana