Over the coming weeks, we will be counting down our Top 50 teams in the country. Teams 26-50 will be posted in groups of five, while we will count backwards from No. 25 to the No. 1 team in the country. You can find a complete schedule of our 2011-2012 Season Preview coverage here. To browse through the rest of the Top 50, click here.

Last Season: 29-8, 14-2 (1st ACC), lost to Kentucky in the Elite 8

Head Coach: Roy Williams

Key Losses: Justin Knox, Larry Drew

Newcomers: James Michael McAdoo, PJ Hairston, Desmond Hubert,

Projected Lineup:

- G: Kendall Marshall, So.
- G: Dexter Strickland, Jr.
- F: Harrison Barnes, So.
- F: John Henson, Jr.
- C: Tyler Zeller, Sr.
- Bench: PJ Hairston, Fr.; James Michael McAdoo, Fr.; Reggie Bullock, So.; Desmond Hubert, Fr.; Justin Watts, Sr.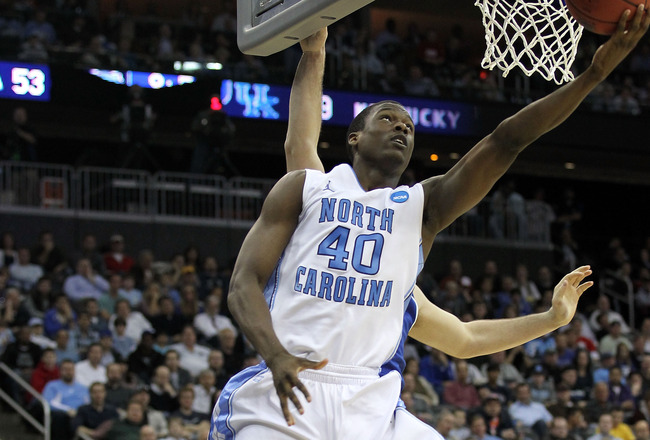 Outlook: The Tar Heels went through a fairly incredible transition last season. After struggling to find any kind of rhythm through the first two months of the season -- and seeing their freshman all-american play like a senior reserve -- UNC became a different team when Larry Drew left the program. Roy Williams turned the keys over to Kendall Marshall, and the Heels went changed from a Pinto into a Porsche. All of a sudden, the UNC fast break was thriving and Barnes was playing to a level that supported all of the hype that he entered the program with. And thanks to a dominating victory at home over Duke on the last day of the regular season, the Tar Heels are, surprisingly, the reigning ACC regular season champions.

What makes that fact all the more terrifying is that UNC brings back just about everyone from that team, with the exception being that they added all-americans as their first two bodies off the bench. Think about this: there are four first-round picks on this roster, and that's not counting PJ Hairston, Reggie Bullock or Kendall Marshall. Ol' Roy may have won two titles since he's been in Chapel Hill, but there is an argument to be made that this is his most talented team to date.

We'll start with their best player -- Harrison Barnes. There's not much to say about this young man that hasn't already been written to death. A smooth, 6'8" scorer, Barnes is at his best when he's not settling for tough jumpers. He's got an excellent mid-range game and proved to be an above-average three-point shooter once Marshall was feeding him the rock and he had his confidence. He's the most talented perimeter player in the country and he should be an 18-20 ppg scorer this season. I say should because there is no guarantee that Barnes will be the player that he was at the end of last season. What happens if the timid, unassertive Barnes that we all saw for the first 15 or so games last year reappears? I don't think it will, but can we be sure?

Joining Barnes in the Carolina front court will be a trio of future first rounders in John Henson, Tyler Zeller and James Michael McAdoo. Zeller, in my opinion, will be the most important player of this group. UNC's offense relies on the fast break, but the key component is their secondary break. It essentially becomes a four-around-one set with Zeller inside. His ability to score on the block and is a key for opening things up for the rest of that offense, just like Tyler Hansbrough and Sean May were crucial in keeping defenses honest on the 2005 and 2009 title teams.



Henson will be the shot-blocker and the rebounder. His offensive game is no where near as refined as Zeller's -- he's mostly a catch-and-dunk player right now -- but his length and athleticism make him a terrific shot blocker and one of the best rebounders in the country despite his slender build. McAdoo will be their physicality this season. He's a much better scorer in the post than he will have the opportunity to consistently show this season simply because he isn't going to get a ton of opportunities. Freshman Desmond Hubert will also see minutes.

The shooting guard spot will be the most interesting to keep an eye on this year. Junior Dexter Strickland will be the starter. He's the best perimeter defender they have on their roster, but he's also enough of an offensive threat to keep defenses honest. He's not a great spot-up shooter, but he can create off the dribble better than either of UNC's other options. Freshman PJ Hairston and sophomore Reggie Bullock, who, at 6'7", will also be the guy that spells Barnes at the three, will have to take over the role of shooter. Hairston is a big-time scorer that will have to make the most of his opportunities this year. Bullock came into UNC last season with the reputation of being a shooter, but he struggled through the season with a lack of confidence and a bum knee.

The most important player on this team will be Kendall Marshall. He's a different kind of point guard than Ty Lawson or Ray Felton. He's not the kind of player with amazing speed that will beat every down the floor in transition. He's not a great scorer either; he had the same number of points as he did assists as a freshman. But he is a sensational passer. He has the kind of vision that will get his teammates the ball in a position to score before they even know that they are open. With the weapons that UNC has on their roster, they don't need a point guard that has to score to be effective. There is a reason that UNC was so much better with him in the lineup than Larry Drew.

UNC, along with Kentucky, is the most talented team in the country. They get the nod over the Wildcats simply due to their experience; they have freshmen playing roles, not being relied upon to be stars. I don't think anyone would complain if their December 3rd matchup at Rupp was a preview of the national title game.