All week, we'll be breaking down the top players at each position in the college games. A few caveats. First, we're talking about how good these guys are as college players, not how well they project as a pro. Second, while it may be too much power for me, I am making the executive decision on what "position" a player is (and it may not necessarily be what he is listed as on a roster). Third, I love me a good argument, so if you think someone is too low or too high or the wrong position, leave a comment and let me hear about it.

Positional Rankings: PG, SG, SF, PF, C

To browse through the rest of our Season Previews, click here.


1. Jordan Taylor, Sr., Wisconsin: Taylor does not project as a star at the next level. Hell, it would probably be a miracle if Taylor ends up getting drafted. He's not an all-american because of his physical tools. He's an all-american because he is everything that you look for in a collegiate point guard. What he did as a junior was flat-out unbelievable. Playing on a team that averaged the second fewest possessions in the country last year, Taylor managed to average 18.1 ppg, 4.1 rpg, and 4.7 apg. He also shot 42.9% from the floor and turned the ball over just 42 times in 34 games despite playing 36.5 mpg as the primary ball handler. From an efficiency guru's point of view, there is a legitimate argument to be made that Taylor was the best player in the country last season.



2. Tu Holloway, Sr., Xavier: To be honest, I almost feel bad for Holloway. Here's a kid that turned himself from an afterthought for the big boys -- he was once committed to Indiana, but backed out when Tom Crean was hired -- into arguably the best player outside of the BCS conferences. He carried a Xavier team dealing with major losses to graduation, injury and ineligibility to yet another Atlantic 10 title and a return trip to the NCAA Tournament. And thanks to Taylor, Holloway -- who came one poor performance in the NCAA Tournament away from averaging 20 ppg, 5 rpg and 5 apg -- doesn't even get a whiff of a mention as the most under-appreciated point guard in the country.

3. Kendall Marshall, So., North Carolina: If we were to set up a 1-on-1 league for all of the point guards on this list, I'm not sure Marshall would win a game. He's not a great scorer or shooter and he doesn't have much in the way of physical tools. But he is a perfect fit at North Carolina. Marshall has loads of talent around him and is terrific at leading the break, which is precisely the kind of combination you want for a player as unselfish as he is. Marshall's talent lies in his court vision and his pinpoint passing -- he gets you the ball in a position to score before you realize you are open.

4. Aaron Craft, So., Ohio State: Like Marshall, Craft climbs this high on the list of point guards not because of his wealth of god-given ability, but because he is a perfect fit for the Ohio State system. He's a tenacious on-ball defender that sets the tone for the Buckeye defense. Offensively, he runs the Buckeyes offensively, getting his team into their sets offensively and providing the kind of leadership a coach dreams of at the point. He's also capable of knocking down a three if he is left open or creating off the dribble when the time calls.

5. Scoop Jardine, Sr., Syracuse: Consistency is the name of the game for Jardine, who averaged 12.5 ppg and 5.9 apg last year. When he's playing well, he's as good as any point guard in the country. But to often last season, Jardine committed too many turnovers and lost his grasp on what is and what isn't a quality shot. As a senior leader on a talented Syracuse team, Jim Boeheim will be relying on Jardine to iron out those inconsistencies this year.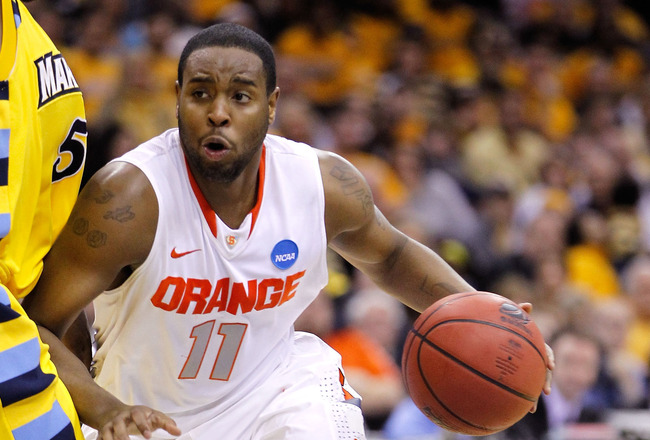 6. Dee Bost, Sr., Mississippi State: Believe it or not, Bost actually averaged 15.2 ppg, 6.2 apg and 1.4 spg last season. Making those numbers all the more impressive is the fact that he did so while sitting out the first 14 games of the year and only playing the Bulldog's SEC schedule. Maybe its because of the NBA Draft fiasco he put himself through last year or maybe its the result of playing on a dysfunctional Mississippi State team, but Bost gets no where near the credit or respect that he deserves as a player on a national scale.

7. Peyton Siva, Jr., Louisville: Siva is going to be the engine that makes the Cardinals go this season. He is one of the most explosive players in the country, a lightening bolt from end-to-end that can finish well-above the rim despite being 5'11". He leads the break that allows Louisville to get so many open looks for their bevy of perimeter shooters, but he's also the player that has the ball in his hands at the end of a clock.

8. Marquis Teague, Fr., Kentucky: Teague is an ideal point guard for the dribble-drive offense. Described as a "pitbull" with the ball by John Calipari, Teague is a terror to try and defend 1-on-1 thanks to his terrific quickness and flashy handle. He's not the athletic specimen that John Wall was, but he should will still be quite effective with the ball in his hands.

9. Shabazz Napier, So., UConn: Napier will be the most important player on the Huskies this year. Not only is he going to be playing the role of primary ball-handler and creator on a team chock-full of length and athleticism, but he'll be the best (only?) sharp shooter on the Husky roster. That and, you know, filling Kemba Walker's massive shoes.



10. Matthew Dellavedova, Jr., St. Mary's: Losing Mickey McConnell is going to hurt the Gaels, but it should be noted that Dellavedova was second in the WCC in assists last season as 5.3 per game. Nothing about his game is all that pretty or fundamental, he's just one of those kids that always seems to make good things happen. He should have no problem keeping this St. Mary's team nationally relevant.

11. Maalik Wayns, Jr., Villanova: I'm expecting a big season out of Wayns. With some of the upper-classmen gone, this is now his Villanova team. With Jay Wright's club looking very similar to the 2009 team that made the Final Four, don't be surprised to see Wayns end the two-year string of late-season flameouts for the Wildcats.

12. Myck Kabango, Fr., Texas: In terms of pure point guard ability, there may not be a better talent that Kabongo. He's a leader and the kind of playmaker that will flourish with talent around him. But does Texas have enough of a supporting cast to allow Kabongo to shine?

13. Joe Jackson, So., Memphis: Jackson entered Memphis with unrealistic expectations. And while he struggled to adjust to the pressure, he had his moments where his talent was evident. He'll be better as a sophomore.

14. Casper Ware, Sr., Long Beach State: Ware is the best player on the most underrated team out west. The 49ers won the Big West by four games last season, and Ware's 17.0 ppg and 4.4 apg were the biggest reason why.

15. Seth Curry, Jr., Duke: Curry is a bit of a question mark is that its unclear whether or not he is actually a point guard. What isn't unclear is the kid's talent level. He can score points in bunches. If he adapts well to becoming a point guard and a playmaker, he'll form a dangerous back court with Austin Rivers.

16. Malcolm Grant, Sr., Miami
17. Kendall Williams, So., New Mexico
18. Ray McCallum, So., Detroit
19. Erick Green, Jr., Virginia Tech
20. Josiah Turner, Fr., Arizona
21. Reggie Hamilton, Sr., Oakland
22. Erving Walker, Sr., Florida
23. Trevor Releford, So., Alabama
24. Terrell Stoglin, So., Maryland
25. Juan Fernandez, Sr., Temple