Over the coming weeks, we will be counting down our Top 50 teams in the country. Teams 26-50 will be posted in groups of five, while we will count backwards from No. 25 to the No. 1 team in the country. You can find a complete schedule of our 2011-2012 Season Preview coverage here. To browse through the rest of the Top 50, click here.

Last Season: 25-10, 11-3 (t-1st WCC), lost to BYU in the round of 32

Head Coach: Mark Few

Key Losses: Steven Gray, Demetri Goodson, Manny Arop

Newcomers: Gary Bell Jr, Kevin Pangos, Kyle Dranginis, Ryan Spangler, Chris Sarbaugh, Guy Landry

Projected Lineup:

- G: David Stockton, So.
- G: Marquise Carter, Sr.
- F: Guy Landry Edi, Jr.
- F: Elias Harris, Jr.
- C: Robert Sacre, Sr.
- Bench: Sam Dower, So.; Gary Bell, Fr.; Kevin Pangos, Fr.; Kelly Olynyk, Jr.; Mathis Monninghoff, Jr.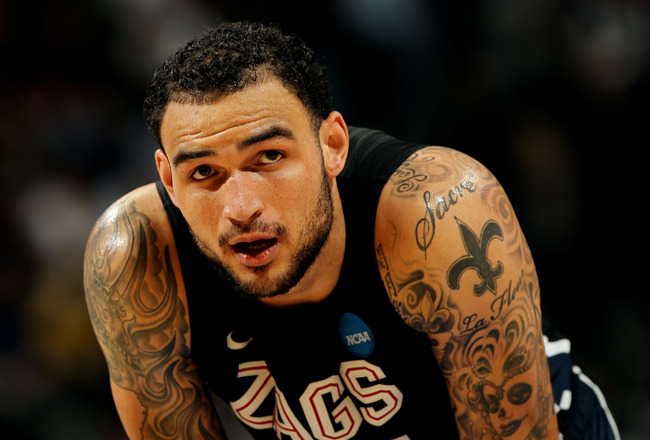 Outlook: Gonzaga is coming off of a 2010-2011 season that was strange, to say the least. After struggling through the early part of the season -- they lost five of their first nine games in non-conference play and started out league play just 3-3 -- the Zags flipped the switch when Marquise Carter was moved into the starting lineup and David Stockton and Sam Dower became the primary options off the bench. The Zags won 10 games in a row in WCC play, enough to give them both a share of the conference regular season title and the WCC Tournament title, sending Mark Few's club back to the NCAA Tournament.

There will be some new faces on this team, however. Gone is Steven Gray, Gonzaga's leading scorer from last season. Also gone is defensive-stoppers Manny Arop and Demetri Goodson, who transferred to Indiana State and Baylor, respectively, the latter for football. And while this year's back court is going to have a new feel to it, the Zags still appear to be the favorite in the WCC.

The strength of this year's Gonzaga team is going to be in the front court, but a lot of just how good that front court ends up being is going to depend on Elias Harris. Specifically, which Elias Harris are we going to get this year? As a freshman, Harris had lottery pick written all over him. Here was a 6'8", 220 lb kid that could go by his man on the perimeter, he could score over a smaller defender in the post, he was able to finish above the rim with a authority, and he was a deadly three-point shooter. But as a sophomore, Harris's number dipped across the board. For my money, there were three reasons for that: A) Robert Sacre's continued development; B) the lack of a pure point guard and a natural playmaker with Matt Bouldin graduating; and C) an off-season shoulder injury and an early-season achilles injury that limited his explosiveness and left him out of shape.

One of the knocks on Harris during his time at Gonzaga has been his inability to create his own shot. He was a finisher around the rim and a catch-and-shoot guy on the perimeter as a freshman, and that didn't change when he was a sophomore. But after an offseason in which he was healthy and able to develop his game, there's no reason why Harris shouldn't be a more well-rounded offensive player. If he is, than he will create a dangerously talented and experienced inside-outside combo with Robert Sacre, who has quietly developed into one of the best big men on the west coast. Sacre is a legitimate seven-footer with a solid back-to-the-basket game, the ability to draw fouls and convert free throws, and the size to take up space in the paint and make his presence felt on the glass and as a shot-blocker.

Joining those two up front will be Sam Dower and Kelly Olynyk. Dower is an interesting prospect. A redshirt sophomore, he didn't see many minutes until midway through the season, when Gonzaga's struggles forced Few to give him a chance. He responded with production, making a name for himself as a junkyard dog around the rim, using his length and positional smarts on the glass. Olynyk is a 6'11" face-up four with a solid perimeter stroke when he has time. Like Dower, he's a pest on the offensive glass. That front court rotation will be able to matchup with any front court in the country.

The back court is where the real question marks arise. For my money, the only guaranteed starter is Marquise Carter, the combo-guard who sparked the late-season surge. He's a 6'2" senior that had a couple of big scoring games as a junior. He's not just a scorer, however, as he can create for his teammates as well. Few will be counting on him to become more consistent this season, as he will likely begin the year as the primary offensive weapon.



From there, the picture gets a bit blurry. I think that David Stockton can and will start for this team next year, although there are folks that will disagree with me. But Stockton isn't as big and doesn't have the athleticism of some of the other back court options. He's also not as dynamic of a playmaker; Stockton plays more of a leader/facilitator role. That's fine when you are dealing with a team with individual talent and scorers, which I believe Gonzaga as -- assuming Harris finds the ability to create his own shot. Don't be surprised to see Kevin Pangos, a canadian point guard and fairly highly regarded recruit, to push for some minutes at the point as well, although I believe he is still a year or two away from having a major impact.

The other perimeter spot is also up in the air, and it appears that two newcomers will be battling for the position. The freshman phenom is Gary Bell Jr, a Kent, WA, native known for his ability to score. His game centers around his perimeter stroke, but he also appears able to put the ball on the floor and get to the rim. Guy Landry Edi is a JuCo transfer from Midland (TX) that Gonzaga fans are hoping will be the x-factor. He's an athletic, 6'5" wing and Ivory Coast native that should be able to replace the defensive presence that Arop provided. Also keep an eye on Mathis Monninghoff, a sharp-shooting swingman that got eight starts last year.

There is talent on this roster, but there are going to be two keys to the season for the Zags. The first is whether or not Harris can live up to his potential as a superstar and first round NBA Draft Pick. The other is whether Gonzaga can solidify a back court rotation, and just how good the newcomers end up being. The Zags should be considered the preseason favorite in the WCC, and if things break right, there are the pieces here to make a run to -- and past -- the second weekend of the NCAA Tournament.