Over the coming weeks, we will be counting down our Top 50 teams in the country. Teams 26-50 will be posted in groups of five, while we will count backwards from No. 25 to the No. 1 team in the country. You can find a complete schedule of our 2011-2012 Season Preview coverage here. To browse through the rest of the Top 50, click here.

Last Season: 24-9, 10-6 (t-3rd Big 12), lost in the first round of the NCAA Tournament to Florida State

Head Coach: Billy Kennedy

Key Losses: BJ Holmes, Nathan Walkup

Newcomers: Jamal Branch, Jordan Green, Daniel Alexander, Grant Jolly, Elston Turner

Projected Lineup:

- G: Dash Harris, Sr.
- G: Elston Turner, Jr.
- F: Khris Middleton, Jr.
- F: Kourtney Roberson, So.
- C: David Loubeau, Sr.
- Bench: Jamal Branch, Fr.; Jordan Green, Fr.; Naji Hibbert, Jr.; Ray Turner, Jr.



Outlook: Texas A&M has been a model of consistency in hoops ever since Billy Gillispie took the program over in 2004. Prior to their first round loss to Florida State this past season, the Aggies had made five straight NCAA Tournaments and advanced to the second round each year. In that span, A&M has only finished higher than third in the conference standings once, coming in 2007, and they've never won the conference tournament. In other words, for the past six years, A&M has always been good, but they've never been great. This year, the Aggies have a real chance to win their first Big 12 title of any kind.

The biggest news heading into the new season is the coaching change that the Aggies underwent. Mark Turgeon was picked to replace Gary Williams at Maryland, and he was replaced by Billy Kennedy, the latest in a string of quality hires from Murray State. Kennedy will thrive at A&M. On the one hand, he's a native of Louisiana and he coached throughout the state coming up. Once A&M makes the jump to the SEC, he should be able to recruit very well in the area. More importantly, however, Kennedy runs a system similar enough to Turgeon's that the players that are left over shouldn't have trouble adapting.

And there is plenty of talent on this A&M roster. It starts with Khris Middleton, a smooth, 6'7" wing that led the team in scoring a season ago. Middleton is not an overly explosive athlete and he's not the kind of shooter that will force you to guard him 25 feet from the basket. What he does well is score in the mid-range, that area 5-15 feet from the basket that so many players struggle with. He's got an array of floaters and pull-ups that are difficult to defend given his size. Middleton had some big games early in the year, but he struggled a bit as the season wore on and teams figured out that he was the Aggie's best offensive threat.

Perhaps the most important addition to the Texas A&M roster this season will be Washington transfer Elston Turner. Turner is a big-time shooter and a guy that can space the floor. He should be the perfect compliment to Middleton on the wing and may end up being a double-figure scorer. Junior Naji Hibbert and freshman Jordan Green should also see minutes on the wing. The point guard spot will be an interesting battle. Dash Harris is the returner and should expect to be the starter. A terrific on-ball defender, Harris struggles offensively. He's a horrid shooter (26.8% from the floor, 16.7% from three) and while he can create opportunities for his teammates, he turns the ball over too much. Will that leave an opening for Jamal Branch to work his way into the starting lineup? Branch is one of the top ten point guards in the Class of 2011.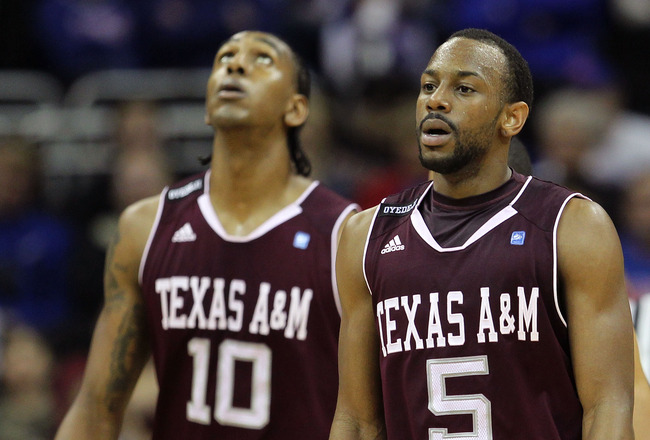 The front court for the Aggies will be anchored by David Loubeau. Loubeau has developed over the course of his career in College Station to become a solid low-post scoring threat. He's not Jared Sullinger, but he is a guy you can count on getting you a solid look at the rim in a post-up situation. There are two things Loubeau needs to work on, however. The first is his ability to block shots and rebound the ball; he's below-average in both of those areas and it hurt the Aggies last season. He also needs to improve on his ability to pass the ball out of the post -- 13 assists to 48 turnovers is not going to cut it.

He'll be joined up front by Kourtney Roberson, a 6'9", 240 lb sophomore that was very productive in limited minutes as a freshman. He averaged 5.6 ppg and 3.8 rpg in just over 12 minutes. I suspect he will move into the starting lineup and could end up having a break out season. The combination of Loubeau and Roberson will be a solid one for the Aggies. The issue is going to be front court depth. Junior Ray Turner also returns inside while sophomore Keith Davis and freshmen Grant Jolly and Daniel Alexander will be in the mix for playing time as well.

The Aggies have a real chance here. Baylor's talented but enigmatic. Kansas and Texas and rebuilding, moreso Texas than Kansas. Missouri just lost Laurence Bowers. Wouldn't it be ironic if the Aggies end the Jayhawk's streak of Big 12 regular season titles the season before they leave the conference?