Over the coming weeks, we will be counting down our Top 50 teams in the country. Teams 26-50 will be posted in groups of five, while we will count backwards from No. 25 to the No. 1 team in the country. You can find a complete schedule of our 2011-2012 Season Preview coverage here. To browse through the rest of the Top 50, click here.

Last Season: 25-12, 12-4 (2nd SEC), lost to Wichita State in the finals of the NIT

Head Coach: Anthony Grant

Key Losses: Charves Davis, Senario Hillman, Chris Hines, Andrew Steele

Newcomers: Rodney Cooper, Nick Jacobs, Trevor Lacey, Retin Obasohan, Levi Randolph, Moussa Gueye

Projected Lineup:

- G: Trevor Releford, So.
- G: Trevor Lacey, Fr.
- F: Charles Hankerson Jr, So.
- F: Tony Mitchell, Jr.
- C: JaMychal Green, Sr.
- Bench: Levi Randolph, Fr.; Ben Eblen, Jr.; Carl Engstrom, So.; Moussa Gueye, So.; Nick Jacobs, Fr.; Rodney Cooper, Fr.



Outlook: I'm not sure there was a team in the country that had a more impressive turnaround in 2010-2011 than Alabama. They began the year 8-6 in non-conference play, losing to powerhouse programs like St. Peter's, Seton Hall, Iowa and Providence, and it looked like the Crimson Tide were headed to year another lost season. But something happened at the start of SEC play. All of a sudden, Anthony Grant's team started playing defense, got more efficient offensively and before you knew it, this group was 7-1 in the SEC and putting themselves into the discussion for earning an at-large bid. And if Alabama had managed to win a road game down the stretch, they may have actually ended up in the NCAA Tournament. Instead, the Tide -- who went 19-0 at home in 2010-2011 but finished just 6-12 when they had to travel -- wound up in the NIT, where they were able to make a run all the way to the championship game.

This season, Alabama's strength is going to be their front line, which is headlined by all-SEC first-teamer JaMychal Green. Green, who averaged 15.5 ppg and 7.5 rpg last season, is the horse on the block. He does the majority of his damage within 5-7 feet of the rim, scoring on post-ups, dump-downs and offensive rebounds. His go-to move on the block is a pretty jump hook that he can hit fairly consistently out to about 10 feet. At 6'8", Green is not an overwhelming athlete, but he does take up some space inside and is a capable rebounder. If there is any area where Green can stand to improve, its his face-up game. Its strange, really. For a guy that shoots 73% from the free throw line, Green is not a very good jump shooter.

Joining Green up front is Tony Mitchell, who is without a doubt one of the most exciting players in the SEC to watch. A 6'6" combo forward, Mitchell loves to run the floor in transition and will generate his fair share of POSTERIZED worthy dunks. Mitchell does spend a lot of time out on the perimeter, so it would be nice to see him shoot better than 31.6% from deep. But he's not on the court to be a shooter. He's out there to make plays defensively and to attack the glass, which he did to the tune of 15.2 ppg and 7.1 rpg last season.

Alabama lost a starter off their front line from last season as Chris Hines graduated. Hines was not a big-time scorer or rebounder, but he was a terrific defender, second on the team in terms of blocking shots. He played along side Green, which allowed Mitchell to slide over to the three, which is why Alabama was one of the best defensive teams in the country last season. Sophomores Moussa Gueye and Carl Engstrom and freshman Nick Jacobs will be the guys that provide depth up front this year. One of them needs to be able to provide consistent minutes as a shot blocker and a space eater inside.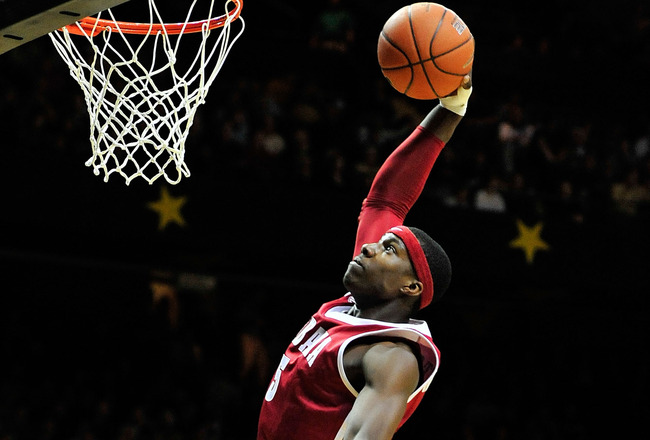 Alabama's back court is going to be young next season, as it will consist of a junior, two sophomore and a trio of freshmen. The two sophomores are both likely going to start. Trevor Releford was the Crimson Tide's starting point guard last season, and he didn't disappoint, becoming the team's third-leading scorer and one of the best creators in the SEC. He turned the ball over a bit too much, but criticizing him for that seems a bit nit-picky when you consider that he started at the point in the SEC as a freshman and nearly led his team to the NCAA Tournament. Releford will need to take over more of a leadership role this year, being the guy that gets his team to execute offensively when they are on the road.

Charles Hankerson Jr. will be one of the guys to join Releford in the back court. He was inconsistent as a freshman shooting the basketball, something that plagued Alabama as a team, but he's got size at the two-guard spot and is a good defender, Expect two talented freshmen -- Trevor Lacey and Levi Randolph -- to come in and compete for a starting job right away. Lacey seems like the more likely of the two to get minutes early on as he comes in with the reputation of being a winner and a competitor with a big-time jump shot. Randolph, who is bigger but more slender than Lacey, has a better all-around game at this point in career. Both will see major minutes. Expect junior Ben Eblen and freshman Rodney Cooper to also see some time in the back court.

There is talent on this Alabama roster, but there are some issues that are going to need to be addressed. The biggest problem is leadership. The Crimson Tide went 19-0 at home last season and still managed to miss the NCAA Tournament. A 6-12 record outside of Tuscaloosa is simply not going to cut it. Who steps up and wills this team to execute offensively? Who can take and make big shots in a tough road venue?

The other issue is shooting the ball. While Alabama was -- and likely will be again this year -- one of the best defensive teams in the country, they were one of the worst when it comes to shooting the ball from the perimeter. The only guy that shot better than 31.6% from long range (Charvez Davis, who shot 34.6%) graduated. Hopefully, both Mitchell and Releford have improved their strokes in the offensive, but that stat is what makes the addition of Lacey so important. Can he be a guy that stretches the defense and opens up the paint for the Tide's talented front court players?

Alabama probably isn't going to win the SEC -- that will be Kentucky -- but they are right there with Florida and Vanderbilt when it comes to the second-best team in the league.