Over the coming weeks, we will be counting down our Top 50 teams in the country. Teams 26-50 will be posted in groups of five, while we will count backwards from No. 25 to the No. 1 team in the country. You can find a complete schedule of our 2011-2012 Season Preview coverage here. To browse through the rest of the Top 50, click here.


45. Kansas State Wildcats:

Last Season: 23-11, 10-6 (Big 12)

Head Coach: Frank Martin

Key Losses: Jacob Pullen, Curtis Kelly, Juevol Miles, Nick Russell

New Additions: Adrian Diaz, Thomas Gibson, Angel Rodriguez, Nino Williams, Jeremy Jones, James Watson, Omari Lawrence

Projected Lineup:

- G: Will Spradling, So.
- G: Rodney MacGruder, Jr.
- F: Nino Williams, Fr.
- F: Jamar Samuels, Sr.
- C: Jordan Henriquez-Roberts, Jr.
- Bench: Omari Lawrence, So.; Shane Southwell, So.; Martavious Irving, Jr.; Adrian Diaz, Fr.; Thomas Gibson, Fr.



Outlook: Jacob Pullen was, without a doubt, one of my favorite players to watch while he was a member of the Kansas State Wildcats. He was also one of the most valuable, as he almost single-handedly turned around K-State's season and led them to the second round of the NCAA Tournament. That kind of player is nearly impossible to replace. Also gone is Curtis Kelly, however, and with the Wildcats being a year removed from the midseason departures of Freddy Asprilla and Wally Judge, Frank Martin's club may actually be better off with fewer distractions. There is still some talent on the roster. Sophomore Will Spradling and junior Rodney McGruder form a solid back court, and both should have big years with the added chances that Pullen's graduation frees up. St. John's transfer Omari Lawrence, Shane Southwell and Martavious Irving will give K-State some depth on the perimeter. The x-factor may end up being Nino Williams, a top 100 recruit that enrolled at Kansas State early but redshirted last season after getting two concussions. Jamar Samuels is an experienced and athletic power forward who, when combined with Jordan Henriquez-Roberts, give the Wildcats a front line with some potential. The front court depth is lacking, as two freshmen and a couple of JuCo transfers are their back ups.


44. Georgetown Hoyas:

Last Season: 21-11, 10-8 (Big East)

Head Coach: John Thompson III

Key Losses: Austin Freeman, Chris Wright, Julian Vaughn

New Additions: Tyler Adams, Otto Porter, Mikael Hopkins, Jabril Trawick, Greg Whittington

Projected Lineup:

- G: Markel Starks, So.
- G: Jason Clark, Sr.
- F: Hollis Thompson, Jr.
- F: Nate Lubick, So.
- C: Henry Sims, Sr.
- Bench: Tyler Adams, Fr.; Otto Porter, Fr.; Mikael Hopkins, Fr.; Jabril Trawick, Fr.; Greg Whittington, Fr.



Outlook: It will be a changing of the guard in DC this year as Chris Wright and Austin Freeman have finally graduated after what felt like a decade as Hoyas. With a talented recruiting class coming in, and eight underclassmen in the rotation, this may be a rebuilding season JT III's club, but that doesn't mean they won't be able to compete with some of the Big East's big boys. The two guys that Georgetown is going to rely on the most will end up being Jason Clark and Hollis Thompson. Clark has been the third option the past two seasons, while Thompson could end up being a breakout star. He's got some talent, and this season he will be able to play the three, his more natural position. Henry Sims showed some improvements as a junior, especially with his ability to pass from the high post, while Nate Lubick is a solid rebounder and defender at the four. It will be interesting to see what the freshmen group will provide, especially considering how much potential there is on the front court. Otto Porter, 6'9" combo-forward and a Missouri native, is the rookie you want to pay attention to. The x-factor for the Hoyas will be point guard Markel Starks. Georgetown's offense stagnated late in the season with Chris Wright broke his wrist because the Hoyas lost that guy that can create a shot. If Starks can fill that void, Georgetown has a shot to be a tournament team. One thing to note -- will Georgetown's brawl out in China bring this team together?


43. Northwestern Wildcats:

Last Season: 20-14, 7-11

Head Coach: Bill Carmody

Key Losses: Michael Thompson, Mike Capocci

New Additions: Tre Demps, Mike Turner, David Sobolewski

Projected Lineup:

- G: Tre Demps, Fr.
- G: JerShon Cobb, So.
- F: Drew Crawford, Jr.
- F: John Shurna, Sr.
- C: Luka Mirkovic, Sr.
- Bench: Alex Marcotullio, Jr.; Davide Curletti, Sr.; Mike Turner, Fr.; David Sobolewski, Fr.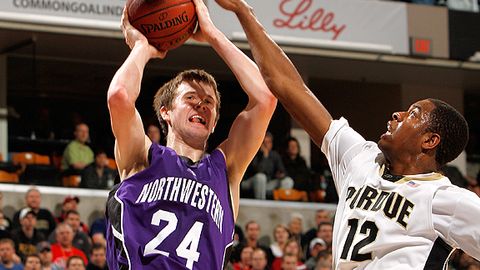 Outlook: There is an argument to be made that Juice Thompson, a four-year starter at the point for the Wildcats, will be the most difficult player to replace in the Big Ten next season. Everything revolved around Thompson, especially while Shurna was battling his ankle injury, and he was the unquestioned leader. Two freshmen -- Tre Demps and David Sobolewski -- were brought in to fill the void, but if they are unable to play that role, junior Alex Marcotullio will likely have to slide over and handle the point. The good news is that Bill Carmody's offensive system doesn't necessarily need a point guard; all they need is someone to get them into their continuity sets. If Northwestern is ever going to make an NCAA Tournament, this is the year. John Shurna was having a sensational season before he hurt his ankle. Drew Crawford has the potential to be an all-Big Ten player. So does JerShon Cobb, who averaged 7.4 ppg as a freshman despite being beat up most of the season. Luka Mirkovic is a solid and experienced big man, while Marcotullio and Davide Curletti will provide some depth. Northwestern has so many three point weapons that when they get hot, they will be able to play with anyone in the country.


42. Butler Bulldogs:

Last Season: 28-10, 13-5 (Horizon)

Head Coach: Brad Stevens

Key Losses: Shelvin Mack, Matt Howard, Shawn Vanzant, Zach Hahn,

New Additions: Roosevelt Jones, Jackson Aldridge, Kameron Woods, Andy Smeathers

Projected Lineup:

- G: Ronald Nored, Sr.
- G: Chase Stigall, Jr.
- G: Chrishawn Hopkins, So.
- F: Khyle Marshall, So.
- F: Andrew Smith, Jr.
- Bench: Garrett Butcher, Sr.; Emerson Kampen, Jr.; Erik Fromm, So.; Roosevelt Jones, Fr.; Jackson Aldridge, Fr.



Outlook: Butler will be an interesting team to keep an eye on this season. After making back-to-back national title games, the Bulldogs lost their two stars -- Matt Howard and Shelvin Mack -- and two other key back court players. With a young team this season and Arkansas transfer Rotnei Clarke ineligible until next year, this will be a rebuilding year. But there is still a chance this club competes for their league title and an NCAA Tournament trip. It starts up front, where Andrew Smith has developed into a rock on the block and Khyle Marshall has the potential to be Butler's next star. Ronald Nored, the team's unquestioned leader, is back to anchor a back court that includes a couple of young guys -- Chase Stigall and Chrishawn Hopkins -- that had promising moments last season. Garrett Butcher, Emerson Kampen and Erik Fromm provide Brad Stevens with some depth up front while freshmen Roosevelt Jones and Jackson Aldridge -- who led Australia to a U-18 title -- give the Bulldogs even more young perimeter talent. The future is bright for Butler, but how far away that bright future is is unclear.


41. Clemson Tigers:

Last Season: 22-12, 9-7 (ACC)

Head Coach: Brad Brownell

Key Losses: Demontez Stitt, Jerai Grant

New Additions: Devan Coleman, TJ Sapp, KJ McDaniels, Bernard Sullivan, Rod Hall

Projected Lineup:

- G: Andre Young, Sr.
- G: Tanner Smith, Sr.
- F: KJ McDaniels, Fr.
- F: Milton Jennings, Jr.
- C: Devin Booker, Jr.
- Bench: Bryan Narcisse, Sr.; Bernard Sullivan, Fr.; Devin Coleman, Fr.; TJ Sapp, Fr.



Outlook: Given the loss of Trevor Booker to the NBA and the change in coaching staff, its more than reasonable to say that Clemson's 22 win season and trip to the second round of the NCAA Tournament can qualify as a resounding success for Brad Brownell in his first season. What's more impressive is that his team seemingly got better as the season progressed, meaning that his players really started buying into his system, which is focuses on half-court defense as opposed to Oliver Purnell's up-and-down style. This year, however, the Tigers will be quite young. The team will be anchored by their senior back court of Andre Young and Tanner Smith, two solid, well-rounded and experienced ACC guards. The rest of the perimeter rotation will be made up by freshmen -- TJ Sapp, Devin Coleman, KJ McDaniels, Rod Hall. The front court will be more experienced, with juniors Milton Jennings and Devin Booker likely starting. Those two both had hype as recruits, but have yet to live up to that potential. Senior Bryan Narcisse -- an athletic, 6'6" ball of energy -- and freshman Bernard Sullivan will provide Brownell with depth up front.